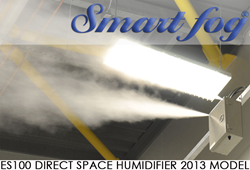 Smart Fog commercial humidifiers provides low energy consumption
Reno, NV (PRWEB) May 27, 2014
Smart Fog announces its new commercial humidifier feature: the industry's first Eco Mode. This Eco Mode provides significant energy savings by actively adapting to the humidifier's environment to operate efficiently regardless of the work atmosphere.
"Eco Mode field tests have shown a 25% reduction in energy usage on an annual basis," says Ido Goldstein, Director at Smart Fog. "This is an added energy savings over the already low energy consumption of the Smart Fog commercial humidifiers."
With Eco Mode, Smart Fog's humidifiers adjust and make corrections, before outside factors have the opportunity to drastically affect an area's humidity. The new Eco Mode enhances the benefits of Smart Fog's non-fluctuating humidification technology, which ensures low energy consumption.
The Eco Mode feature will be added to all Smart Fog humidification products and can be used effectively in cold storage environments, as well as warm environments. Even at 24°F, Smart Fog provides the same high-quality humidity control as it does in warmer temperatures. This new technology will be essential for many industries, including blueberry growers, who use Smart Fog to enhance quality and assist with disinfection. In addition, the biggest asparagus and flower importers in LAX use Smart Fog systems in their facilities.
"One of the main benefits of Smart Fog's humidifiers," Goldstein continues, "is that they provide clean humidity without wetting anything." Smart Fog's industrial humidification system features the lowest energy consumption per water droplet. For more information on Smart Fog's unique commercial humidification system, its features and advantages, visit http://www.smartfog.com.
About Smart Fog Inc
In business since 1980, Smart Fog Inc. is a recognized world leader in non-wetting commercial and industrial humidification solutions. Smart Fog's unique technology provides precise humidity enforcement, light speed uniform coverage and intelligent non-fluctuating humidity control. All Smart Fog products are engineered and manufactured in the USA. Smart Fog staffs a full range of engineers to advise commercial printers, in-plants, data centers and manufacturers on humidity management and environmental control for operation efficiency and employee comfort.
For more information, visit: http://www.smartfog.com