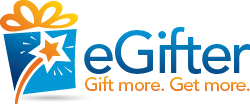 Huntington, NY (PRWEB) May 27, 2014
eGifter, the social gifting company, announced today it has launched a new stand-alone, white label social wishlist platform for retailers. The platform allows users to pick specific products they'd like to receive from the retailer's website and invite others to chip in to purchase the items they have selected.
The eGifter Social Wishlist Platform is the first to offer a wishlist with options for both social gifting and group payments. It also integrates personalization with animated eGreeting cards with video messages.
Similar to the eGifter Social Registry Platform, intended for weddings, baby showers and other large events, it is designed for shoppers who want a handful of large-ticket items for a holiday, birthday or graduation.
"We continue to update our offerings to improve and personalize the gifting experience for retailers and consumers by providing the best social and mobile tools," said Tyler Roye, co-founder and CEO of eGifter. "The eGifter Social Wishlist Platform ensures consumers receive the gifts they actually want and helps retailers accomplish their objectives of happier customers and additional sales of high-ticket items."
The platform is a turnkey hosted system that requires minimal integration and can also be added to a retailer's mobile website or mobile app. It includes a robust management system that allows the wishlist owner to edit content on the Web or on a mobile device. They can then share their wishlist over social media. The system also includes tools for a group gift organizer to track the progress of a group gift and communicate with invitees.
The wishlist owner has the ability to choose the 'Send eGift Cards' option. This feature adds flexibility, allowing the recipient to accept the selected gift, or change their mind and use the eGift card toward the purchase of any other item available from the retailer.
For more information on the eGifter Social Wishlist Platform, or to see a full list of brands in the eGifter marketplace, visit http://www.eGifter.com.
About eGifter
eGifter revolutionizes the act of gift giving with a social and mobile gifting platform designed to create a fun experience for consumers, while helping retailers unlock the viral potential of gift giving in social spaces. eGifter is based in New York and was founded in 2011 by a group of proven tech entrepreneurs. To learn more about eGifter and their social and mobile group gifting platform, visit http://www.eGifter.com/Retailers/. Try it out at http://www.eGifter.com, or download the mobile app from iTunes or Google Play.