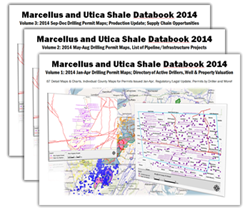 New York, NY (PRWEB) June 03, 2014
Marcellus Drilling News and ShaleNavigator announce the release of Volume 1 of the 2014 Marcellus and Utica Shale Databook--an ongoing series of in-depth research reports designed for those with a stake in natural gas and oil drilling and associated activities in the Marcellus and Utica Shale Plays.
The new edition (Volume 1) of the Databook contains a series of maps for each county with active drilling throughout Pennsylvania, Ohio and West Virginia. Each county map displays the location of wells with permits for the preceding four months, Jan-May 2014. Each Databook volume also contains a special drilling update that analyzes trends for the previous four months, and updates on recent regulations and legislative actions.
Volume 1 of the Databook includes a first-ever: An inside look on mineral rights appraisal in shale plays, including a resource list. Also new for Volume 1 are updated maps of natural gas pipelines and lease offers in the Marcellus and Utica Shale region.
About the Databook Publication
The 2014 Marcellus and Utica Shale Databook is a 3-volume set available in electronic format (PDF). Each volume includes new sections not found in the others. The three volumes work together, Volume 1 as the foundation, Volume 2 as a mid-year update on where the latest activity has taken place, and Volume 3 showing the latest activity for year-end.
Who can benefit from the Databook...
The Databook was created first and foremost for companies in the shale energy supply chain. Each edition pinpoints where drilling is heating up and where it's cooling down, based on permits issued maps generated from ShaleNavigator.
Midstream and infrastructure companies know the Databook an indispensable resource. Reference to what your competitors are planning, and what your customers (drillers) will need--and where they'll need it.
Drillers will also want to know what capabilities are coming soon with new infrastructure buildout—where it's coming, and when. This edition helps answer those vitally important questions.
Government officials will be interested in knowing where and when drilling and midstream projects will be heating up—especially those in their geography or region. With drilling and infrastructure comes an enormous amount of locally invested money and jobs--but along with it also comes challenges, like increased truck traffic, and packed hotel rooms. The Databook can help government officials forecast what's coming soon.
Law firms are a big buyer of the Databook, and for good reason. The information helps law firms know when to expect an uptick in demand for their services—and which companies to talk to about those services. Each well drilled and each midstream/infrastructure project launched contains mountains of legal work—from securing real estate, leases and easements—to labor law, compliance and a host of other legal issues. No law firm with an energy practice should be without the Databook.
All three Volumes of the Databook is available for download now. To preview and order, visit: http://marcellusdrilling.com/databook.