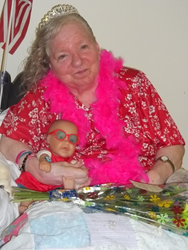 Newport News, VA (PRWEB) May 28, 2014
Patty Phillips loves Elvis Presley more than almost anything.
And so on Friday, May 16, thanks to the prodding from the staff and residents at The Gardens at Warwick Forest, the 24-hour nursing care home inside the Riverside Health System retirement community in Newport News, he came to visit and put on a show for her.
In addition to being the final day in a week-long celebration for National Nursing Home Week, May 16 also marked Phillips' 42nd anniversary of living at Warwick Forest, making her the longest resident to call the neighborhood home.
Phillips, who suffers from Cerebral Palsy, a chronic disease that limits range of motion and functional abilities, became a resident of The Gardens when she was 27.
She loved Elvis then and loves him equally now and had no idea he was coming to visit.
But she was dressed to impress with a silver tiara on her head and a bright pink feather boa looped around her neck. The staff and residents aimed to truly make Phillips the woman of the hour as she was serenaded by her favorite American singer.
"She's spoiled rotten," one of Warwick Forest's nurses said with a loving grin as she walked by Phillips.
Phillips ignored her. She only had eyes for Elvis, who constantly plugged her name into his ballads and love songs during an hour-long performance.
Phillips blushed furiously when he sang "Can't Help Falling in Love (with Patty)" and handed her a bouquet of purple and yellow flowers. She followed Elvis's every movement, grinning toothily whenever he swayed his hips in her direction.
"I'm going to get to all of your requests, even if I have to stay until four in the morning," Elvis said to Phillips about halfway through his performance.
"That's fine by me," Phillips answered, blushing.
Director of Life Enrichment Carie Deweerd watched Phillips, who was off to the side of the large banquet hall, the entire time.
"She's extremely shy," she said. "It literally took her 10 years to start talking to me."
Deweerd is probably the closest friend Phillip has at the Gardens.
"She doesn't like to get attached," Deweerd said, because in her 42 years as a resident, Phillips has seen other residents come and go.
Phillips eventually warmed up to Deweerd, "because I didn't give up on her," she said. And although Phillips' family, including siblings and a niece, come to visit every few weeks, Deweerd called the staff at Warwick Forest Phillips' family, too.
Despite having Cerebral Palsy, Phillips enjoys writing and reading, and playing with the resident cat, Booboo. She sees everything that's goes on in the neighborhood and knows everyone's name.
"She's been talking about her anniversary for weeks," Deweerd said.
Along with the Elvis performance, a large marble cake topped with a photo of Phillips was served for the anniversary.
But Phillips wasn't interested in the cake. Even after Elvis disappeared to change out of his blue suede suit, she waited for him, admiring her flowers. Deweerd looked on happily, thrilled to see her friend enjoying her day.