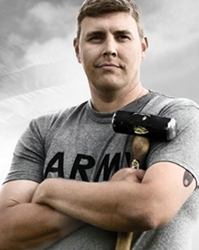 With a simple idea, and without giving up, you can make an impact.
Wayne, PA (PRWEB) May 28, 2014
BetterWorldians Radio today announced that Dale Beatty, co-founder of Purple Heart Homes, was a guest on the weekly Internet radio show. BetterWorldians Radio inspires with the people and ideas that are making the world a better place. The show featuring Beatty aired on Thursday, May 22nd and is now available via podcast on the VoiceAmerica Variety Channel (http://BetterWorldiansRadio.com).
Beatty discussed his journey from a life-altering injury while serving in Iraq, to co-founding Purple Heart Homes. He explained how his organization's mission to help disabled Veterans live happier lives in homes customized to their needs brings together Veterans from all eras. Beatty said he hopes Purple Heart Homes will inspire everyone to realize that they, too, can make a difference. "With a simple idea, and without giving up, you can make an impact," said Beatty.
BetterWorldians Radio co-host Greg Hansell said, "Dale is a great example of the thousands of Veterans who continue to give back after completing their military service. He saw a need for housing for disabled Veterans and used his own disability checks to get the job done. We thank Dale and all Veterans who have gone above and beyond in service to our country."
About BetterWorldians Radio:
BetterWorldians Radio is a weekly Internet radio broadcast on the VoiceAmerica Talk Radio network that has provided a platform for some of the most inspiring people and organizations in our world today. BetterWorldians Radio is hosted by Ray, MarySue and Gregory Hansell, the family team that created the popular game on Facebook, A Better World. BetterWorldians Radio airs live on Thursdays at 11 a.m. ET on the VoiceAmerica Variety Channel and has featured guests such as best-selling authors Ryan Carroll (CEO of Summertime Entertainment and producer of Legends of Oz: Dorothy's Return), Tom Ziglar (CEO, Ziglar, Inc.), and Tiny Buddha founder Lori Deschene. To listen to the show, log on to BetterWorldiansRadio.com. All shows will be available in the BetterWorldians content library on the VoiceAmerica Variety Channel for on-demand and podcast download.
About A Better World:
A Better World is a game on Facebook that rewards players for doing good deeds while helping to raise money and awareness for charities. Over 2.5 million people have performed over 22 million good deeds in A Better World to date. A Better World recently launched a worldwide Campaign for Kindness with the release of an animated video, http://ColorWithKindness.com.
About Dale Beatty
In 2004, Staff Sergeant Dale Beatty deployed with the North Carolina National Guard to Iraq in support of Operation Iraqi Freedom. In 2004 while on a patrol route that was littered with highly active insurgent operations, the vehicle Beatty was riding in was ripped apart by anti-tank mines. The explosion was so severe that it left Beatty a double amputee below the knees. Thanks to support from the Iredell Homes Builders Association and many members from the local community in and around Statesville, NC, a specially adapted barrier free home was built for Beatty and his family, with Beatty serving as general contractor. As a result of all the support from his community – Dale Beatty and his battle buddy John Gallina wanted to help other Service Connected Disabled Veterans with their housing solutions. Together they co-founded Purple Heart Homes with money from their disability checks to help Veterans and their caregivers from all eras. Learn more at http://PurpleHeartHomesUSA.org.