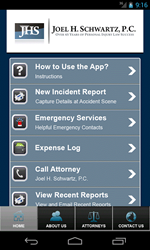 With the AccidentApp, our commitment to providing legal and personal support will be unsurpassed. We are making the entire process of handling an accident as easy as pushing a button.
Boston, MA (PRWEB) May 27, 2014
Joel H. Schwartz, P.C. is always on the lookout for new and better ways to serve clients. With the newly available AccidentApp, help from an attorney is simply a click of a button away on your smartphone. The accident app can take many of the major concerns off your plate if you happen to have an automobile accident.
An auto accident is one of the most traumatic experiences that one can be involved in. At worst, they can cause significant injuries and even fatalities. In most instances, there will be damage, paperwork and trauma to deal with. Having an app to help simplify the process of dealing with an auto accident can save time, money and grief down the road.
Accidents are always unexpected. When they happen, the first thing to do is to check on the safety of all the people involved in the accident. If someone is hurt, seek immediate medical assistance. When necessary, it is imperative to not waste any time in contacting emergency services. A report must be written and on the record as to what happened so there's no confusion later on. All insurance companies must also be notified. Then there are the secondary issues such as the tow truck for the vehicle if it is not drivable, bringing it to a repair shop and finding a way to get home.
All of these aspects can be time-consuming and stressful. People are also likely to be mentally and emotionally shaken after auto accidents, too, which further complicates things. The initial shock of the accident may make it difficult to recognize the extent of injuries, and it sometimes takes days for aftereffects to appear. The accident app takes care of everything in one easy step. All you will need to do is take your smartphone and press the button to tend to a post-accident checklist.
Following the accident, using this app's accident toolkit will make it easy to get emergency services, take pictures of the scene and gather relevant information. Contacting the nearest police station, finding a tow truck, locating an auto body shop and calling a taxi is all built into the app. The app is also designed to locate the closest hospital in the unfortunate circumstance that there are injuries to anyone involved in the accident. Additionally, if there are injuries, the app will inform the attorneys at Joel H. Schwartz, P.C., who will begin the process of exploring legal action.
Forgetting one small step can be a substantial problem in the aftermath of an accident. With the AccidentApp by Joel H. Schwartz, there's no need to even think about it because it's all spelled out.
With the AccidentApp, the attorney's job will also be made much easier. The potential legal case will be on firmer ground from the start because of the app's data collection.
That's not all this convenient app can do. The push notifications will allow Joel H. Schwartz, P.C. to notify users about new events and friend referrals. Social media integration gives you the option of using Twitter, Facebook, YouTube and any other social media outlet to share experiences or see testimonials from satisfied clients.
"Our clients know that we're there for them 100 percent of the time, 24 hours a day, seven days a week," says partner and attorney Steven A. Schwartz. "With the AccidentApp, our commitment to providing legal and personal support will be unsurpassed. We are making the entire process of handling an accident as easy as pushing a button."
And the motivation for all of this, according to Schwartz, is to maintain the highest level of support for customers.
"It's important to keep up with the latest technology in serving our clients. We believe that our work speaks for itself but that it's also a key for our future and yours to have convenient ways for our services to be accessed via smartphone. The difference you'll see when coming to Joel H. Schwartz, P.C. is that we feel as though we're your partner in filling all your legal needs. When there is an auto accident, that's when you're going to need us most. It's our philosophy that there is no more important relationship than the one we share with our clients. The new app and its benefits reflect that. We believe that hard work and dedication is the proper way to run a legal firm."
The app will give clients and potential clients a compelling reason to select Joel H. Schwartz, P.C. for all of their legal needs. The download is free. It can be found on the Joel H. Schwartz website, on iTunes for the iPhone and Play Store for Android.
For more information about the app or the law office of Joel H. Schwartz, call 617-742-1170 visit http://www.joelhschwartz.com.