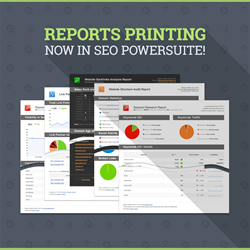 Now users can just hit "Print" and get a hard copy of any of the 15 SEO PowerSuite reports in a click.
(PRWEB) May 27, 2014
Prior to the update, Enterprise users were only able to save SEO reports to their hard drives, send them as e-mail or publish them to the Web. As far as Professional users are concerned, they were previously able to generate reports in SEO PowerSuite, without the opportunity of exporting the latter outside the software.
Benefits of the New "Print" Button
The new report printing option makes it easier for users to work with the reports they get in the SEO toolset. Even the Free version allows one to generate a full array of SEO PowerSuite reports, however, before the Print button was introduced, one could only view reports on their computer screen.
And now users can just hit "Print" and get a hard copy of any of the 15 SEO PowerSuite reports to:

Bring SEO reports to a meeting;
Hand them to a client;
Give them to a webmaster;
Work with reports when away from the computer, and more.
In order to make the "Print" button show up in SEO PowerSuite, one has to let their software auto-update or get the latest version from the SEO software provider's website.
Reports printed from the Pro version contain a watermark, while Enterprise reports are white-label and may be branded with the user's logo, color scheme of choice and other details.
15 Types of SEO Reports in SEO PowerSuite
SEO PowerSuite consists of four multi-purpose SEO tools, each responsible for a specific aspect of one's SEO campaign.
Accordingly, each SEO PowerSuite software piece offers its set of reports one can use to estimate their SEO progress at a glance, pass the data on to another department, or demonstrate it to a client.
1. Rank Tracker has 6 SEO reports available: Keyword Rankings and Visibility, Competition Rankings, Keyword Rankings (by Keyword), Keyword Rankings (by Search Engine), Keyword Research and Website Visitors (Traffic) reports.
2. WebSite Auditor offers Site Structure Audit, Page Structure Audit, Page Optimization Audit and Search Engine View reports (4 total).
3. There are 3 reports available in SEO SpyGlass: Website Backlinks, Website Backlinks Analysis and SEO Success Blueprint.
4. And, LinkAssistant has Link Building Report and Link Partner Management Report.
One can get a preview of any SEO PowerSuite report at http://www.link-assistant.com/sample-reports/seo-reports.html
*About Link-Assistant.Com*
Link-Assistant.Com is a software developer with 8 years of experience providing high-performing SEO tools for bloggers, SEO consultants and online marketing agencies. The company's best-known toolset, SEO PowerSuite, is presently used by over 500,000 people worldwide who rely on it for facilitated SEO process and paramount SEO results.
Keep abreast of the SEO industry – follow Link-Assistant.Com on Facebook fb.me/LinkAssistant, Twitter @LinkAssistant or Google Plus gplus.to/LinkAssistant.