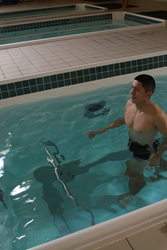 "We knew the HydroWorx pool would be a great tool in helping with that process. We incorporated aquatic therapy in our facility simply because we were aware of the advantages of water."
Middletown, PA (PRWEB) May 27, 2014
From women's gymnastics to men's wrestling, collegiate coaches are looking for players to build their teams around. Securing the right recruits for any program can come down to whether or not a given school can demonstrate its dedication to help the student-athlete achieve his or her maximum potential. For this reason, there is a dramatic rise in college sports medicine programs growing and expanding their facilities. Bigger strength and conditioning areas, expert rehabilitation and high-tech equipment are the wave of the future—not only to attract the right athletes, but also to give these athletes the competitive edge they need to win championships. This is happening especially among the mid-major collegiate sports programs.
"At Northern Illinois University," stated Phil Voorhis, Assistant Athletic Director for Athletic Training Services for this Mid-American Conference school, "we expect success. Along with developing programs that support academic success, our strategic goals involve winning Mid-American Conference championships. This materializes by incorporating the best personnel, equipment and training techniques into our system."
Knowing aquatic therapy would be a crucial component to take their training and conditioning capabilities to the next level, several years ago Northern Illinois University (NIU) invested in a HydroWorx pool with underwater treadmill and resistance jets.
It's All About the Athletes
"We felt that we needed to make the next step in the care of our student athletes," continued Voorhis. "It's really all about the kids. We wanted to make sure our student athletes are the best they possibly can be. We knew the HydroWorx pool would be a great tool in helping with that process. We incorporated aquatic therapy in our facility simply because we were aware of the advantages of water."
NIU uses the HydroWorx underwater pool with treadmill and resistance jets mostly for rehabilitation—to get the student-athletes healthy and back on the field, floor or mats as quickly as possible—but the pool has also proven to be a valuable conditioning tool.
"Most of the time the pool is used to rehab injuries and get our kids healthy and back to doing what they love, but about 20% of its use is conditioning and interval work. This has been a real plus."
As with any large purchase, planning, time and resources are required. This can raise a number of challenges and concerns.
"The logistics and mechanics of adding a large component to your facility can be difficult. Communicating with all parties—including architects, engineers and vendors—and getting them on the same page is the key to success with the process." Voorhis found that conference calls, in-person visits and emails with all parties involved kept the project running smoothly.
On Thursday, May 29, 2014 from 1:00pm – 2:00pm EDT, Phil Voorhis will present a free webinar outlining the valuable role that hydrotherapy plays in his university's sports medicine program. He will begin with the decision making process his team underwent that led to the purchase of their pool. He will also discuss the logistics of integrating this piece of hydrotherapy equipment into their facility, including overcoming logistical challenges and concerns. Voorhis will also describe the day-to-day management of an effective collegiate hydrotherapy program that treats athletes from multiple sports and how he and his team maximize the use of their pool. He will complete the webinar with a unique case study of the rehabilitation of an abductor logus avulsion in a college football player.
During the webinar attendees will learn:

The advantages of and successful management of hydrotherapy in collegiate sports medicine
Tips for athletic trainers who are new to utilizing hydrotherapy in treating collegeiate athletes
Ways to ensure that a therapy pool is used to its fullest potential.
One CEU is available for athletic trainers through BOC. All other certificates will be available if participants wish to petition their certification agency for CEUs. For more information, or to register for the webinar, please visit: http://ww2.hydroworx.com/webinar-college-2.
SPEAKER BIO:
Phil Voorhis has spent the last 21 seasons leading the sports medicine operation at Northern Illinois University. He directs a staff of 11 athletic trainers who provide Northern Illinois' 486 student-athletes in 17 sports programs with medical care at each practice and competition. Voorhis works directly with the Huskie men's basketball, and the men's and women's golf teams.
A certified member of the National Athletic Trainers Association (NATA), Voorhis is also an active participant in the Great Lakes and Illinois Athletic Trainers Associations. He is a past president of the IATA after a term as regional representative to that group's Board of Directors and has given numerous speeches to such groups as the Illinois State Bar Association, the GLATA Winter Symposium and NATA.
In addition to his work with Huskie student-athletes, Voorhis has been an advocate for preventative medical care and safety on campus. Through his efforts, defibrillators were added to all university police vehicles and at all major campus athletic venues. He instituted a CPR certification requirement for all Northern Illinois Athletics staff and is active with the local chapter of the American Red Cross, working with the organization's Disaster Team and as an instructor.
ABOUT HYDROWORX:
HydroWorx, based in Middletown, Pennsylvania, offers a wide range of underwater treadmill therapy pools, and peripheral products and services. Every day, more than 23,000 athletes and patients use HydroWorx technology to recover from injuries and health conditions.
More information about HydroWorx's upcoming webinars, as well as archived webcasts from previous events, can be found by visiting http://www.hydroworx.com/research-education/video-library/details.aspx?id=151&categoryId=23.
# # #