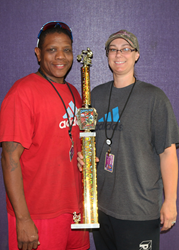 'We are attracting both current and former athletes who want to drive for Prime because they see an opportunity to make great money, train, travel, and compete across the country.' -Siphiwe Baleka, Prime's Driver Health and Fitness coach
Springfield, MO (PRWEB) May 29, 2014
Prime team drivers Jason and Heather Davis went off road and recently competed at the USA BMX Dixieland Nationals in Atlanta, GA on April 26th and 27th. Jason, who is a former BMX Pro racer, competed in two races and is attempting to qualify into the top 8 riders in the men's 41- 45 Intermediate Division. Heather is already qualified and placed 4th in the 31 & Over Girls race on Saturday and 3rd in Sunday's race.
"I had sugar issues," joked Jason. "I almost didn't race. You tell yourself just go out there and have fun, but once you have been competitive, it gets pretty serious." Jason and Heather are just another example of Prime drivers who find a way to train and compete while living out of their trucks. In 2012, Jason won the first ever Prime Bicycle Challenge, competed in a Revolution 3 triathlon series race, and competed in the 2012 BMX National Championships. "Overall, I ended the (previous) year #68 out of 364 riders in my district. I'd like to improve on that and hit top 20. That means more racing."
"It's amazing how many dedicated athletes we have in our fleet," said Siphiwe Baleka, Prime's Driver Health and Fitness coach. "We are getting a reputation for being the healthiest fleet in the country, and we are attracting both current and former athletes who want to drive for Prime because they see an opportunity to make great money, train, travel, and compete across the country. We have a former pro basketball player, an Olympic track and field athlete, former college football players, even para-gliders and skydivers. You just never know who is behind the wheel."
Heather Davis is certainly taking advantage of the opportunity to drive and compete. Asked about her goals for 2014, Heather said, "These other girls are always trying to beat me. This year I will make it into the top five."
About Prime Inc.
Founded in 1970 by Robert Low, Prime Inc. is North America's most successful refrigerated, flatbed, tanker and logistics trucking company. Headquartered in Springfield, Mo., Prime's personnel, equipment and technology remains on the cutting edge of the transportation industry, and the company's growth remains steady and well managed.
About Prime's Driver Health and Fitness Program
Started in 2012 by Prime lease operator Siphiwe Baleka, the program offers thirteen weeks of personalized coaching using digital health technology that monitors metabolic output and input. There is also an athletic division that sponsors the Prime Walk/Run Challenges, the Prime Bicycle Challenges, the Fittest of the Fleet competition, and the Truckers to Triathletes program. In 2014 the program won the Healthiest Company award at the CES/Digital Health Summit and was featured in the April edition of Men's Health magazine.