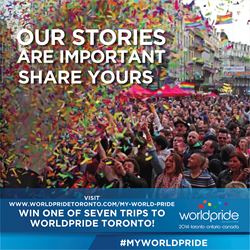 #MYWORLDPRIDE will gather diverse perspectives, highlighting places and people showcasing their special pride stories
Toronto, Ontario (PRWEB) May 27, 2014
WorldPride 2014 Toronto launches the #MYWORLDPRIDE Project, inviting the LGBTTIQQ2SA* (LGBTQ) communities from around the world to share their stories of Pride, the movement and their celebrations.
Pride festivals across the world are local by nature, but each are connected to a much larger global movement focused on LGBTQ rights. WorldPride 2014 Toronto is providing an opportunity to link local movements simultaneously through the #MYWORLDPRIDE Project.
Using the hashtag #MYWORLDPRIDE, submit photos and videos encapsulating what Pride means to you, or images that capture your local Pride movement. Once a week from (May 27 – June 16) submissions will be curated by Pride Toronto.
Winners will receive one of seven trips (flight and accommodation packages for two provided by Pride Toronto's partner, Tourism Toronto) to attend WorldPride in Toronto. Visit: http://www.pridetoronto.com/my-world-pride for more details.
"WorldPride is an opportunity to share our pride stories - joys, successes and challenges as we celebrate together in Toronto. #MYWORLDPRIDE will gather diverse perspectives, highlighting places and people showcasing their special pride stories," says Sean Hillier, Co-Chair, Pride Toronto.
The #MYWORLDPRIDE Project is being supported by Stolichnaya, one of WorldPride's official sponsors, who is providing additional prizing and promotional support to the project.
"As an authentic, pioneering brand Stolichnaya Vodka stands proud with the LGBTQ community in their pursuit of justice and equality. For many years, we have sponsored Pride events in cities around the world. In 2014, our company is honoured to be the official vodka sponsor of WorldPride 2014 Toronto and to support the #MYWORLDPRIDE Project, which will celebrate Pride stories from the worldwide LGBTQ community," states Patrik Gallineaux, North American LGBT Ambassador for Stolichnaya.
About WorldPride 2014 Toronto and Pride Toronto
WorldPride 2014 Toronto is an international celebration, taking place from June 20 – 29, 2014, that incorporates activism, education, and the history and culture of global LGBTTIQQ2SA communities. WorldPride 2014 Toronto is presented by Pride Toronto, producer of Canada's largest annual festival of LGBTTIQQ2SA culture and human rights, under license from InterPride.
Pride Toronto is the not-for-profit organization that hosts the city's Pride Festival, an annual event in downtown Toronto during the last week of June and one of the premier arts and cultural festivals in Canada. It is also one of the largest Pride celebrations in the world with an estimated attendance of over one million people. It celebrates the history, courage, diversity and future of Toronto's LGBTTIQQ2SA communities.
About Stolichnaya
Stoli Group (USA), LLC is the North American subsidiary of SPI Group, recognized globally for pioneering heritage and the outstanding Stolichnaya® brand of premium vodkas. With its inception, the New York-based Stoli Group USA reflects significant growth investment in the U.S. market by parent company SPI Group and will drive the brand forward through new marketing, sales and brand innovation. Internationally distributed Stolichnaya vodkas are bottled in Latvia and are known for award-winning flavor and impeccable clarity. Considered a trailblazer in the vodka industry, Stolichnaya vodka defines the benchmark for quality with meticulously crafted liquid that meets the highest Alpha Spirit standard. The Stolichnaya brand portfolio includes Stolichnaya® Premium Vodka, ultra-premium elit™ by Stolichnaya®, the super-premium Stolichnaya® Gold and Stolichnaya® Flavored Premium vodkas including Blueberi™, Ohranj™, Razberi™, Vanil™, and Hot™. For more information visit http://www.stoli.com or follow on Facebook at http://www.facebook.com/StoliCan and on Twitter @Stoli.
*LGBTTIQQ2SA is an abbreviation used to represent a broad array of identities such as, but not limited to, lesbian, gay, bisexual, transsexual, transgender, intersex, queer, questioning, two-spirited, and allies.
For more information visit http://www.worldpridetoronto.com.
Please contact:
Trevor Hampden, Trevor(at)pridetoronto(dot)com
Head of Marketing Communications, WorldPride 2014 Toronto
(647) 465-6718