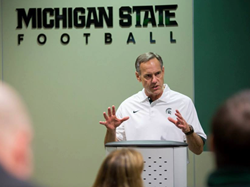 East Lansing, Mich. (PRWEB) May 27, 2014
Team building within an organization's management often gives them an advantage in meeting the challenges and opportunities of today's global economy. A June 3-5 program from the Michigan State University Eli Broad College of Business helps prepare managers to build and develop effective teams, but with a unique twist: it employs the expertise of the college's faculty and the Spartan coaching staff.
Building Winning Teams: A Quest For Excellence is designed to help managers build a strong team structure and culture, with the ability to make effective strategic and tactical decisions. It will help them build skills to select and recruit top talent, manage conflict and change and team development. The program covers the following topics about leadership and team development:

Design – Organizational Structure and Culture
Composition – Selection and Recruitment
Decision-Making – Analysis and Choice
Process Management – Conflict and Negotiation
Change Management – Resistance and Renewal
Each day's events also include coaching moments with the Spartan athletic department, featuring live discussions led by MSU coaches; team activities that include action learning, planning, execution and analysis led by coaches and faculty; and firsthand exposure to cutting-edge research on teamwork and to coaching philosophies and winning approaches. MSU coaches participating in the program include Mark Dantonio, football; Tom Izzo, men's basketball; Suzy Merchant, women's basketball; Tom Anastos, hockey; Jake Boss, baseball; Cathy George, women's volleyball; and Stacy Slobodnik-Stoll, women's golf.
Building Winning Teams: A Quest For Excellence will be held June 3-5 in The James B. Henry Center for Executive Development on the MSU main campus.
###
About the Eli Broad College of Business
Michigan State University's Eli Broad College of Business teaches students to reach across business functions, build relationships and solve global business problems to make business happen. The college, which is home to more than 5,800 undergraduate and 800 graduate students, offers seven undergraduate majors, two MBA programs, seven professional master's degrees and eight doctoral degrees, as well as a variety of executive education programs. Students can choose to enhance their education through an extensive selection of study abroad trips and by engaging in real-world projects in research centers and experiential labs.
About Michigan State University
Michigan State University has been working to advance the common good in uncommon ways for more than 150 years. One of the top research universities in the world, MSU focuses its vast resources on creating solutions to some of the world's most pressing challenges, while providing life-changing opportunities to a diverse and inclusive academic community through more than 200 programs of study in 17 degree-granting colleges.