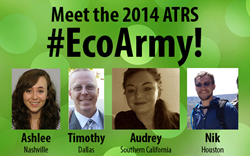 "We are extremely excited to unveil this pilot internship program with college students across the country. We're not only creating green advocates but also servicing the communities in which our bins are located." -Sarah DeCarlo D.M. Coordinator
Houston, TX (PRWEB) June 02, 2014
American Textile Recycling Service (ATRS) is the nation's leading member in textile recycling. In keeping with its tradition of education and community involvement, the company kicks off its first annual summer internship program starting this month. Students from across the nation applied to be part of the Eco-Army and participate in the 10-week marketing curriculum designed to help them learn, act and impact their local communities all summer long!
"We are extremely excited to unveil this pilot internship program with college students across the country," says Sarah DeCarlo Digital Media Coordinator, who will be leading the program this summer, "We're not only creating green advocates through this Eco-Army but also servicing the communities in which our recycling bins are located."
Students don't have to compromise between enjoying an epic summer and gaining essential life-work experience with this internship opportunity. Their assignments will encourage a broad range of activity across all marketing platforms including social media, demographic field work, community event participation and more. Working with ATRS Recycling this summer means being on the cutting edge of recycling, but the benefits don't stop there.
ATRS Recycling Eco-Army interns will enjoy flexible scheduling in and out of office. There will also be weekly cash prizes for competition winners - over $2K in scholarship prize money, awarded for competitions (which is about the average amount students would earn at a summer job). Each chosen student will have their travel per diem and expense reimbursement allotted to them weekly. They will also enjoy the benefit of attending live, large scale events with ATRS Staff and receive hands on marketing experience in a growing industry. The last and best benefit comes with the weekly engagement with a real world marketing team.
Ready to find out which students were recruited for the ATRS Eco-Army this summer? Here are our Fab Four: Ashlee Powers, Audrey Masson, Nik Snyder and Timothy Bartley! Check out the team's full biographies on the ATRS Blog. Congratulations to the first class of interns!
American Textile Recycling Service (ATRS) is the nation's fastest growing textile recycler and an official recycling partner of The Competitor Group. Its socially responsible business model provides free textile recycling solutions for the public, job stimulation worldwide and much-needed funding for worthy local charities. Easy, convenient ATRS Recyclers are available throughout Southern California, Houston, Tennessee, Dallas, Atlanta, Orlando, Phoenix, Scottsdale, Tempe and Tucson AZ, San Antonio, Austin, Galveston and Beaumont TX, Michigan, Oklahoma and Colorado. For press inquires contact pr(at)atrsonline(dot)com.