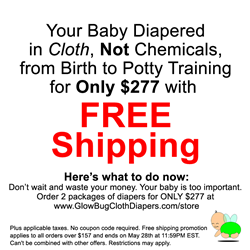 Barrie, ON (PRWEB) May 27, 2014
On May 26th, 2014 Glow Bug Cloth Diapers Co-Founder Neta Talmor had her 37th Birthday so the company decided to celebrate by offering two sales and two giveaways for their fans to enjoy. The first sale ran from May 21st - 23rd, 2014 and offered special lower pricing ($37 off each package of diapers in honor of Neta's 37th Birthday) as well as free shipping. The second leg of the sale is running until May 28th at 11:59pm which will be for free shipping only.
The first giveaway is for 3 Glow Bug Cloth Diapers. The giveaway link can be found here. The second giveaway is for 7 diapers and is through answering a daily Neta related question that is posted every morning at 9:00am on Glow Bug Cloth Diapers' Facebook wall. To enter this contest, fans can enter a response in the comment section below the post any time before midnight on the day it was posted. he following day, one correct answer will be chosen randomly to win one diaper. The Daily Diaper Giveaway and the 3 Diaper Giveaway ends May 28th.
Glow Bug Cloth Diapers is based out of Barrie, Ontario and has been in business since early 2011 manufacturing and selling cloth diapers. Glow Bug Cloth Diapers us best known for offering cloth diapers that are high-quality, easy to use, fashionable and affordable. Glow Bug Cloth Diapers fit babies from newborn to potty training so you never have to buy diapers again, making them high-quality yet cheap cloth diapers.