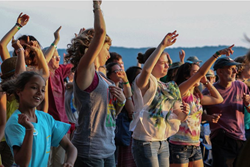 White Plains, NY (PRWEB) May 28, 2014
Looking for a summer to remember? Search no further than Westchester County, which offers Summertastic experiences for all ages. With activities that include the region's top restaurants, world-class wines, unique musical entertainment, plus an array of creative art and dance events, there are enough activities for a busy summer.
"Westchester, the first stop in the Hudson Valley, is the ideal summer destination for the entire family," said County Executive Robert P. Astorino. "From live concerts and festivals to hiking trails, shopping malls, great hotels and places to dine there is no shortage of fun activities and places to visit during your stay."
Following is a sampling of upcoming activities and events in June:
Delightful Dining for Dad
Father's Day is the perfect excuse to spoil the special man in your life. If looking for a special place to dine, try The Winery at St. George, where an exclusive menu is being offered for the special holiday on Sunday, June 15. Starting at $68 per person, the meal includes an appetizer offering various dishes including Spicy Brussels Sprouts and Black and White Striped Maine Lobster Ravioli, an entrée (or two tapas) that feature Organic Pan Seared Duck Breast and Mango and Spice Crusted Yellowfin Tuna Steak, a glass of wine (or a bottle for four people), dessert, coffee or tea, and a special gift for dad. Reservations are required. The Winery at St. George is located at 1715 East Main Street in Mohegan Lake. For more information, visit http://www.thewineryatstgeorge.com or call (914) 455-4272.
Explore Fantastic Festivals
Bigger and better than ever with 22 events, more than 12 locations and six days of food and fun for all ages, Westchester Magazine's fourth annual Wine & Food Week will take place June 3-8. One of the premier culinary gatherings in the Northeast, the event has grown to become a regional destination for foodophiles and oenophiles alike and has expanded from a weekend to a week. Showcasing more than 100 of Westchester's top restaurants, 300 world-class wines, prestigious wine seminars and chef demonstrations, this week-long event offers something for every palate, interest and age. New events for 2014 include Tortilla Tequila Tuesday and Meatball Mania at select restaurants in the county; Casino Royale in pinch American Grill at Empire City Casino with amazing food stations and New York State craft beer; and the Junior Chef Academy at The Ritz-Carlton, Westchester. Signature events such as the Burger & Beer Blast, Grand Tasting, Wine Seminars with Kevin Zraly, the Winemakers Connoisseur Dinner and the Farm-to-Table Brunch will also be showcased during the week-long event. Visit http://www.westchestermagazine.com/wineweek for complete details.
Pete Seeger's vision and desire to clean up the Hudson River in the 1960s prompted a series of riverside concerts throughout the Hudson Valley to help raise the funds to "build a boat to save the river" from toxic chemicals and other pollution. This laid down the foundation for The Great Hudson River Revival, the country's oldest music and environmental festival, which brings together major musical performers and green activism for a unique weekend every June. This year, Clearwater's Great Hudson River Revival: A Music and Environmental Festival will take place on June 21 – 22, on the banks of the Hudson River at beautiful Croton Point Park in Croton-on-Hudson. This year's festival will honor Pete Seeger and his wife Toshi Seeger for their tireless efforts to bring awareness to the Hudson River. Additionally, the performer line-up features a diverse group of artists from around the globe including Norah Jones with her new project, Puss n' Boots (Norah, Sasha Dobson and Catherine Popper); singer-songwriter, Rufus Wainwright; alternative Country/Swing band, The Mavericks; jam band moe., playing a special acoustic set; legendary guitarist and singer, Richard Thompson; Martin Sexton; Josh Ritter; David Bromberg's Big Band; Dar Williams; soul diva, Bettye LaVette; indie jazz/soul band, Lake Street Dive; and ukulele virtuoso, Jake Shimabukuro. The event opens at 9:00 a.m. on both Saturday and Sunday. Tickets start at $56. For more information about the festival, visit http://www.ClearwaterFestival.org or call 1-877-435-9849.
Find Creative Arts & Culture
A brand new exhibition is headed to Caramoor Center for Music and the Arts. In the Garden of Sonic Delights is a unique exhibition of sound art woven into the fabric of Westchester County. Centered at Caramoor Center for Music and the Arts, the exhibition spans six of the region's most dynamic cultural institutions and features fifteen commissioned, site-specific artworks by some of the world's most sought-after artists working in the medium of sound. Each artist has drawn inspiration from their chosen location, creating work that is mindful of the natural and human-made sounds and systems already present in the environment, while engaging each site's unique characteristics, be they acoustic, historic, architectural, or aesthetic. Over a five-month duration, the artworks will be transformed in their context, in tandem with the passing of the day and the change in seasons, rewarding many return visits. The exhibition kicks off on June 7 and is open through November 2 (with a special Sonic Delights Festival scheduled for July 20). Caramoor Center for Music and the Arts is located at 149 Girdle Ridge Road in Katonah. For more information, visit http://www.caramoor.org/house-gardens/in-the-garden-of-sonic-delights/ or call (914) 232-5035.
Watch a show that combines dance and heat at A Night on Fire at Philipsburg Manor June 28-29. The fully choreographed, live display of fire arts presented by Historic Hudson Valley features flame-wielding, fire-eating performers twisting and turning, juggling and dancing, spinning and sword fighting and much more. Perfect for audiences of all ages, A Night on Fire feature jaw-dropping stunts, knee-slapping humor, and just enough danger to create a spectacle guaranteed to have family and friends talking about it long after the fire is extinguished. The performances will take place on Saturday, June 28 at 7:00 p.m. and 9:00 p.m. and again on Sunday, June 29 at 7:30 p.m. Tickets are $22 for adults and $16 for children 17 and under. Tickets must be purchased in advance. Also, Pirates of the Hudson will be a fun attraction for families on July 5. It's the greatest pirate story ever told; a crew of misfit pirates has one chance of returning home and they perform the greatest pirate epic seen on stage. Performances are on Saturday, July 5 at 11:00 a.m., 1:00 p.m. and 3:00 p.m. at Tarrytown Music Hall, followed by festivities at Philipsburg Manor. Tickets are $30 for adults, $18 for children ages 3 to 17, and free for children under 3 years old. Tarrytown Music Hall is located at 13 Main Street in Tarrytown. Philipsburg Manor is located at 381 North Broadway in Sleepy Hollow. For more information, visit http://www.hudsonvalley.org/events/night-fire or call (914) 366-6900.
Stay & Play
Discover a fun escape at the Renaissance Westchester Hotel where its 30-acres of countryside, indoor pool, outdoor fire pits and award-winning chef make the location a family fun retreat. With its Kids Eat Free in Westchester, New York package, parents' wallets can breathe easy. Starting at $179, this package includes Deluxe overnight accommodations, breakfast, lunch and dinner free for up to four children under the age of 12. This promotion is valid Thursday – Sunday through July 13, 2014 and promotional code ZJ6 should be used when making online reservations. The Renaissance Westchester is located at 80 West Red Oak Lane in West Harrison. For more information, visit http://www.marriott.com/hotels/travel/hpnsh-renaissance-westchester-hotel/ or call (914) 694-5400.
For more of the latest events and happenings in Westchester, log onto http://www.visitwestchesterny.com, like us on Facebook (facebook.com/westchestercountytourism), follow us on Twitter @westchestertour or call 1-800-833-9282. To view the Westchester County Destination Guide, please visit http://digital-editions.mediatwo.com/westchester-destination.
About Westchester County Tourism & Film
Tourism & Film is Westchester County's official destination marketing organization. Its mission is to generate economic benefits by enhancing the image and promoting Westchester County as a premier business and leisure destination in the Hudson Valley region. The Tourism & Film Office in Westchester County is a Division within the County Executive's Office of Economic Development.