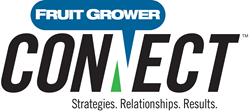 Cleveland, Ohio (PRWEB) May 29, 2014
"We developed FruitGrowerConnect to bring leading growers and suppliers face-to-face to discuss high-level concerns and explore strategic business opportunities," said Meister Media's U.S. Horticulture Group Publisher Gerry Bogdon. "Participants schedule a series of 50-minute meetings prior to the event so their time is utilized as efficiently as possible."
Meetings will be held Nov. 10-11, preceded by a grower forum and welcome reception the afternoon and evening of Nov. 9. FruitGrowerConnect concludes with breakfast on Nov. 12.
Growers will bring their challenges to the table, seeking solutions from suppliers that might include new technologies, products, services and more. Suppliers will look to their grower counterparts for insights into new-product development and service enhancements. "Our intent is to nurture the relationships that help the fruit industry thrive," added U.S. Horticulture Group Editor Richard Jones.
Away from the table, participants will enjoy opportunities to network with their peers and business partners at the renowned Rancho Bernardo Inn, named among Travel & Leisure's 2014 World's Best Hotels and Condé Nast Traveler's 2013 Top Spas. The resort is one of several venues Meister carefully selected for its new "Connect" series of events, which also includes VegetableGrowerConnect™, GreenhouseConnect™ and GardenCenterConnect™.
"Meister Media Worldwide is committed to the agriculture markets we serve through our magazines, digital products and in-person events," concluded Bogdon. "Our Connect events are the next step in optimizing communication and collaboration among industry leaders."