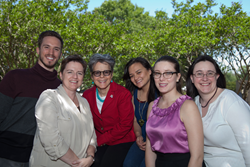 Fort Worth, Texas (PRWEB) May 29, 2014
The Fort Worth Chamber of Commerce recognized Teneo Linguistics Company, LLC on May 15 as one of the two finalists for the Best Workplaces for Women Award 2014 in the small business category. TLC is a full service foreign language translation provider working in over 100 languages. The company communicates its clients' message accurately across languages and cultures so that those clients can expand their own customer bases.
The Best Workplaces for Women Award is decided based on several different criteria: Community Involvement, Compensation, Ethics, Facilities, Training and Mentoring, Wellness Initiatives and Work Flexibility. The award's objective is to recognize and honor enterprises that have demonstrated exemplary "Best Practices" in creating a woman-friendly workplace.
TLC is organized and functions as an agency providing translation services through a vast network of mostly freelance linguists. It has been a challenge to create an excellent, rewarding environment not only for our in-house employees, but also for all members of our team who are located around the world. Being named a finalist for the Best Workplaces for Women Award validates TLC's efforts to become the best possible employer for all of its colleagues while making everyday choices that benefit employees, linguists and the business itself.
The company takes pride in being an ethical business, as well. It strives to be an example to others by living its core values, standing by its word, delivering on every promise and learning and growing in the process. In 2013, TLC also received the Business Ethics Award for its "All-around Ethics" approach, which was a result of its ethical treatment of both customers and the entire family of translators who depend on TLC for their livelihood.
For free information on translation services and simple-to-use resources, please contact TLC at (817) 441-9974 or visit our website.