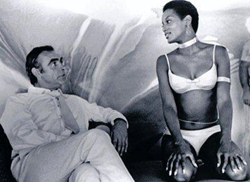 'They wanted someone who knew karate and dance,' said Parks
Los Angeles, CA (PRWEB) May 30, 2014
Neil Haley, The Total Tutor host of the Total Celebrity Show, interviewed Trina Parks to find out about her experience filming a James Bond film, her part in the film, and her life after the movie.
Best known for portraying Thumper in 1971's "Diamonds Are Forever", Parks is an American actress, vocalist, choreographer, principal dancer and dance instructor. In this interview, she tells the story about how she landed the gig to be a James Bond Girl. According to Parks, a friend of hers was a manager at a dance agency and led her to sign with William Morris Agency. Parks started acting, and the William Morris Agency's president encouraged her to audition for a role in a James Bond movie.
"They wanted someone who knew karate and dance," said Parks, which were both skills she had thanks to her background in dancing. Parks, who mentioned that she choreographed all of her stunts and dance moves in the movie, also said that the most exciting thing for her was she would be paid $1,000 a day.
After filming wrapped on the set of James Bond, Parks went on to act in several TV shows, TV specials, and movies, including the Blues Brothers.
Entrepreneur and CEO of Simply G Media Network commented, "As most know, I am a huge James Bond and Ian Fleming fan. I remember watching this movie on New Year's Eve in 1971. I love anything James Bond and I am so happy to have Trina on our network. Great person who did a great job in her role as 'Thumper'!"
In 2012, Parks founded The Palm Springs Historical Dance Theater. She said the theater is comprised of all male dancers 20-to-60-plus year olds. Her goal, she said, is to present history through dance and song to all cultures and ethnicities.
You can listen to this interview by going to: http://simplyg.com/media/simplyg-radio/.