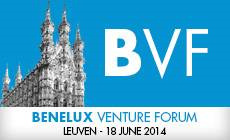 Brussels, Belgium (PRWEB UK) 28 May 2014
A score of interesting speakers, investors and presenting companies have been confirmed for the Benelux Venture Forum on the 18th of June at Provinciehuis Vlaams - Brabant in Leuven, such as Wim De Waele, CEO of iMinds and Herman Daems, Chairman of the Boards of KU Leuven, BNP Paribas Fortis and BARCO.
The Benelux' most promising startups
More than 100 companies have applied for a chance to pitch at the 14th of the edition Venture Forum. A Selection Committee of prominent investors has been responsible to thoroughly assess all applications and has handpicked the 46 most promising entrepreneurs to present at the event. Evaluation was based on business potential, team structure, competitive position, product and technology strength as well as investment potential. In order to properly prepare for their investment pitch, selected companies are able to get expert coaching at a "Dry-Run", polishing their presentation to perfection with the help of seasoned business coaches. Winners of the Benelux Venture Forum, the top 25% of the presenting companies, will receive a guaranteed place at the European Venture Summit, the grand finale of the annual European Venture Contest that takes place in December 2014.
Go to http://www.e-unlimited.com/bvf to view the selected companies.
Special startup guest ticket
The organizers and hosts of the Benelux Venture Forum introduce a new limited entry ticket this year, specifically developed to allow new or future entrepreneurs to learn more about financing growth, and meet face to face with international industry leaders. A limited edition of one hundred tickets will be sold at EUR 100 to high-tech entrepreneurs and students eager to learn more about growth, investment and entrepreneurship. Tickets will be released on a first-come, first-serve base. Interested parties need to apply for a ticket, and applicants will be reviewed if the company meets the "starting business" criteria.
Reserve your startup or buy a normal delegate ticket at http://www.e-unlimited.com/bvf in the tab "registration".
About the Benelux Venture Forum & Europe Unlimited
Leveraging a Europe-wide community of investors and entrepreneurs, Europe Unlimited (1998) is well-known in the startup scene. Through their events they create opportunities such as networking to help entrepreneurs, investors, corporations, researchers and advisors to mix and match and find common grounds.
Note to Editors: Press is welcome free of charge, Europe Unlimited would be delighted to welcome you.