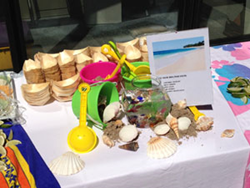 Impeccable Taste Catering was amazing. From setting up, serving our guests, and through to clean-up...
Toronto, Ontario (PRWEB) May 28, 2014
As the warm air settles in, kicking off the brightest of seasons is a breeze with a catering service that delivers right to any planned event. Whether it's having friends over for a summer soiree or hosting a bridal shower, Impeccable Taste Catering knows precisely what is needed to throw a flawless catered event complete with eye-catching décor and scrumptious treats.
When it comes to the business of entertaining, CEO and Executive Chef of Toronto's Impeccable Taste Catering, Rodney Kaufman, knows that any event needs more than just delicious food to throw a successful catered party. "Our team of professional event planners will pour over every detail to put on a truly unforgettable event that will leave your guests talking."
Here, Kaufman breaks down the four main elements required to make any summer catered event one for the ages:
Back to Basics – Forget running around to buy the essentials: the party will be equipped with tables, linens and glassware to create a crisp and polished look. It's everything needed to put your best foot forward.
Stunning Decorations – To add visual appeal, the Impeccable Taste team will ensure the event has an attractive colour scheme, floral embellishments and a unique design with lots of flair to spare.
Delectable Dishes – Serving up a lighter spring menu that's bursting with fresh and exotic fruit, colorful salads and chilled sides will satisfy even the most discerning of palettes. Have a dish in mind that guests will go gaga for? Impeccable Taste works with their clients to create a menu that fits every personality.
BBQ Bragging Rights - No summer catered event is complete without a mouthwatering selection of treats straight from the BBQ. Whether it's fresh summer produce, like sweet corn on the cob and colourful bell peppers, or a diverse array of delectable, local meats, adding a BBQ element is a guaranteed party-starter for any summer event.
Check-off everything on that list of must-haves to satisfy a multitude of tastes. Impeccable Taste Catering will take care of every last detail.
Impeccable Taste Catering offers catering services in Toronto and works with private individuals, companies in the Greater Toronto Area markets. Services include expert event planning and catering for casual lunches, seminars, conferences, product launches, release parties, corporate affairs and weddings, among other social events. Visit http://www.itcatering.ca for more details.