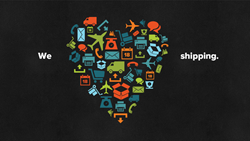 In the multi-billion dollar used vintage instrument market, sellers who optimize their shipping flow are in the best position to succeed. David Kalt - Founder and CEO of Reverb.com
Austin, TX (PRWEB) May 29, 2014
ShipStation, the leading web-based e-commerce shipping solution, announces a strategic partnership with Reverb.com, a marketplace for musicians to sell new, used, and vintage instruments and gear.
"In the multi-billion dollar used vintage instrument market, sellers who optimize their shipping flow are in the best position to succeed," says David Kalt, Founder and CEO of Reverb.com. "Reverb.com chose to partner with ShipStation to give all of our sellers – from eCommerce heavyweights to first time sellers – an opportunity to efficiently grow their businesses."
ShipStation is Reverb's only shipping partner. Through their partnership, online merchants can sell on Reverb and several other e-commerce selling channels (like Amazon, eBay, Magento, Shopify, and much more) without worrying about adding complexity to fulfillment. ShipStation consolidates all orders into one spot, creates shipping labels in bulk across all the major shipping carriers, and sends shipping information automatically back to the selling channels and customers in order to keep all systems in sync.
"ShipStation endeavors to provide all sellers with the tools that help them to ship like the big guys, no matter where they sell," says ShipStation's VP of Marketing, Robert Gilbreath. "By partnering with Reverb.com, we enable all online merchants to efficiently ship through niche marketplaces like Reverb.com in addition to major marketplaces to drive sales and lower costs."
See a video of the ShipStation team rocking out for the new Reverb partnership.
About ShipStation
ShipStation is the leading web-based shipping software that is built to help online retailers organize and process their orders, while fulfilling and shipping them quickly and easily. With automatic order importing from over 40 shopping carts and marketplaces, including eBay, Amazon, Shopify, Magento, WooCommerce, Etsy, Bonanza, and more, and automation features like custom hierarchical rules and product profiles, ShipStation helps online retailers ship out their orders from wherever they sell, however they ship. For more information, visit http://www.shipstation.com.
About Reverb
Reverb is the online marketplace for the $7 billion new & used musical instruments and gear market. With low transaction fees, price benchmarks, and listing visibility, merchants can quickly and easily sell their gear to fellow music lovers. For more information, visit http://www.reverb.com.