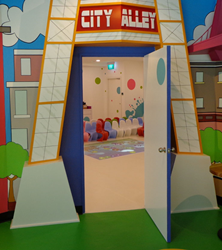 We recognize that it is great tool to add value for our guests who are holding their kids party at our premises.
Armonk, New York (PRWEB) June 11, 2014
Cool De Sac in Singapore has chosen an EyePlay system for use in its Party Room. This innovative restaurant, located in the Suntec City Mall, has a wide variety of entertainment options including arts, a tree house, blocks and even a special tots area for kids 2 and under. Parents can eat healthy food while their children play. More information can be found at cooldesac.com.sg.
Parents can rent out party rooms for exciting children's birthday parties and other events. The new EyePlay is intended add value for those holding parties for kids ages 3-8. Operations Manager Karen Chua stated, "We recognize that it is great tool to add value for our guests who are holding their kids party at our premises."
Parents can select from the Theatre, Club Flash or City Alley, which holds up to 50 children and comes complete with an EyePlay with a variety of different exciting games. Parents can also customize their rooms with themed parties, decorations and different foods.
To date, management reports that visitors have been very impressed with the EyePlay. Chua added, "It fits very well for us. We believe in providing good edutainment for kids. EyePlay is awesome in providing a good platform to enhance kids motor skills and coordination, and at the same time it offers fun!"
About EyeClick:
EyeClick specializes in creating inventive products that transform designated spaces into magical experiences. The company's EyePlay Floor, EyePlay Wall and EyePlay Tables products open up a world of possibilities to engage audiences in out-of-home locations. EyeClick has helped leading brands, from Burger King and NASA to Namco and GattiTown, transform their floors, walls and tables into spectacular interactive gaming surfaces that leave a long-lasting impression on visitors. EyeClick gives hospitals, event planners, retailers, media companies, family entertainment centers, restaurants, and other organizations the ability to entertain and educate children with rich interactive digital content in public spaces. More information about EyeClick can be found at http://www.eyeplay.info.