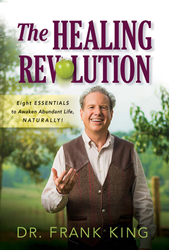 Asheville, NC (PRWEB) May 28, 2014
Dr. Frank King, a chiropractor and doctor of naturopathy, is bringing together notable advocates of homeopathy and natural healing for The Healing Revolution Summit in Asheville, N.C., July 18-20. Topics such as candida, allergies, stress management, longevity and much more will be offered for the general public, as well as accredited courses for healthcare professionals.
The Healing Revolution Summit brings nationally recognized doctors and speakers to Asheville's Crown Plaza Resort to share cutting-edge techniques and modalities that are yielding optimal results. Attendees will learn about the latest intuitive tools and easy-to-implement systems in homeopathy and natural healing. Lectures and demonstrations will feature breakthroughs in natural healing and hands-on techniques.
"With traditional Western medicine, the focus is on illness and disease, and how to mask the symptoms. The Healing Revolution awakens our inner healing power. Epigenetics proves that each one of us is designed to live a long, healthy and abundant life," says Dr. King, founder of the natural wellness company, King Bio, and author of "The Healing Revolution: Eight Essentials to Awaken Abundant Life, Naturally!"
"Embedded within us is a powerful healing force. Modern life often places inhibitions upon this force due to the way we eat, drink, sleep, relate, believe and respond to stress. When we remove these inhibitions, natural life forces are freed to heal."
Speakers will include Dr. King; Garry F. Gordon, MD, DO, MD(H); Hyla Cass, MD; Rashid A. Buttar, DO, FAAPM, FACAM, FAAIM medical director Center for Advanced Medicine and Clinical Research; Steven Ross, DC, DAAPM, FASBE national sales manager, SafeCareRx; Robert Scott Bell, D.A. Hom; David Gerhardt, executive vice president of sales for King Bio; David Lee, DC, PhD, C.Ad.; popular speaker Ty Bollinger; Selina Delangre, president and CEO of Selina Naturally®; and Charles P. Whalen DD, DC, an advocate of homeopathy and natural healing.
Attendees will mingle with naturopathic and homeopathic leaders during a meet-and-greet cocktail reception on the opening night, and free tours will be available for Dr. King's Carolina Bison Ranch, which features bison – including one of the largest collections of rare white bison in the world – and camels.
About Dr. Frank King
Dr. Frank King is a doctor of naturopathy and chiropractic, and founder and president of King Bio, an FDA-registered pharmaceutical manufacturing company located in Asheville, N.C. King Bio is dedicated to education, research, development, manufacture and distribution of safe and natural homeopathic medicines for people and pets. Dr. King is also the author of "The Healing Revolution: Eight Essentials to Awaken Abundant Life Naturally!" (http://www.kingbio.com). A fourth-generation farmer, Dr. King raises yak, camel, boar, wisent and American bison sold under the Carolina Bison brand. He is a member of the Homeopathic Pharmacopoeia Convention of the United States.