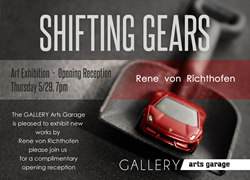 The craftsmanship and design of the automobile have been my inspiration. - Rene von Richthofen
Delray Beach, FL (PRWEB) May 27, 2014
The GALLERY at Arts Garage is pleased to present renowned artist and car enthusiast Rene von Richthofen. The well-known raconteur and descendent of the famed WWI flying ace, The Red Baron, will be presenting new works on Thursday, May 29 at 7 p.m. The public is invited for this complimentary event, and all guests are eligible to win a Porsche for a day from Chariots of Palm Beach. In addition, the famed auto dealer will have several exotic cars on display outside the venue. Join us for live music, wine, and a fun-filled night. For more information: http://artsgarage.org/Page/CurrentExhibits.
"Rene's work is as fun as it is serious. That's why he's been so widely collected by both car and art enthusiasts across the country," said Kahl Wilfert, Director of Visual Arts. "He finds inspiration all over the world, combining his childhood affinity for collecting toy cars with his age-old passion for all things automotive. Using toy cars and found objects as his medium, he transforms everyday objects into conversations of automotive ingenuity and creativity."
"This will truly be an event that everyone will enjoy, from art and toy car enthusiasts to those who enjoy seeing the finest automobiles in the world," said Wilfert.
The winner must be 25 years or older, have a major credit card, and proper insurance.
Chariots of Palm Beach specializes in Morgan, BMW, Mercedes, Bentley, Porsche, Rolls Royce, and more. http://www.chariotsofpb.com
About the Artwork
The automobile is the most important invention of the last century. It has given us freedom of mobility and has systematically led to every advantage we currently take for granted. Along with its practical purposes, Rene celebrates the finer points of the automobile that have brought the world together and have inspired our inner child, including American horsepower, Italian design, Japanese technology and German perfection. His artwork is inspired by other works of art that sometimes go unnoticed, yet make the world go 'round.
While he uses a variety of materials and processes in each of his works, his methodology is consistent. He combines everyday objects with a reference to their creation through the use of the automobile. To do this, he covers the object with miniature replica toy cars, trucks, planes, etc., often painted the same color so as to not deter from the original subject. Always conscious of texture, the replicas are attached in a manner that can best be described as "controlled chaos," which creates a wonderful veneer that adds to the aesthetic attraction in his work.
Many of the new works explore the paradoxes and contrasts that are currently associated with the automobile. This is represented by contrasts in color and texture as well as composition. They are not complicated works and are not meant to be. You'll discover the beauty in his work through its simplicities. They are designed to create awareness and to inspire the child in all of us.
Artist's Web Site: http://richthofenart.com