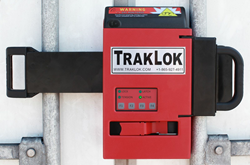 Knoxville, Tennessee (PRWEB) May 29, 2014
TrakLok, Inc., a cargo security firm specializing in trailer and container security, today announced it has retained the services of LaunchIt® Public Relations, Inc., a full service public relations firm focused on technological innovations for the North American transportation market. The decision to utilize the industry and marketing communications expertise of LaunchIt is a reflection of the steady growth at TrakLok as fleets increasingly choose a proactive stance for protecting their cargo.
"TrakLok is very effectively addressing a high cost challenge that no one likes to talk about: theft," said Susan Fall, president of LaunchIt. "GPS tracking is a great tool to recover the trailer; however, more often than not, it is recovered empty. By combining GPS tracking with TrakLok's robust locking solution, you deter unauthorized entry and greatly increase the chances of your cargo arriving at the intended destination intact. It is this layered approach to security that is the most effective solution."
"And high security loads aren't just electronics and tobacco," Fall continues. "For example, poisons and explosives are transported in tens of thousands of trailers and containers daily in the United States. It's a little disconcerting knowing that the only thing securing these shipments could be a $7 padlock. TrakLok recognized a security void in the transportation industry and created an ingenious solution to solve it. Representing innovative solutions for the trucking industry is the foundation of LaunchIt. We are delighted TrakLok has chosen us to deliver their message."
Traklok has developed an integrated security platform to provide unrivaled protection for remote and in-transit inventory. Features of TrakLok include:

Restricted Access – TrakLok's patented geofencing system can only be opened at user-defined locations.
Reusable/Portable System – Can be installed or moved to another trailer/container in under 30 seconds.
On Board Alarm System – Integrated alarm system provides 24/7 coverage even when the driver is unavailable. Alarm and alert notifications such as lock status, tamper detection, and GPS based location are sent via the wireless communication platform.
Tom Mann, president of TrakLok, says, "We have an integrated solution that is superior to anything of its kind in the market. The only question that remained was how to make fleets and transporters aware of it. After reviewing several agencies, we chose LaunchIt because of their targeted trucking and technology expertise."
"Full container theft is a large issue, but another mostly ignored concern is tampering," Mann adds. "All it takes is just one load to get contaminated and the name and reputation of that company is shot. Together with LaunchIt, our goal is to help companies avoid cargo loss plus the intangible loss of brand value if the product is compromised."
About TrakLok, Inc.
TrakLok International LLC represents the coming together of a cargo security company and a wireless design firm to create a robust and intelligent cargo security device. Located in Knoxville, Tennessee, the TrakLok® cargo security system includes: a hardened lock that withstands prying, cutting, or impact tools; an integrated alarm that sends alerts for unauthorized attempts to access cargo; and a GPS tracking system with a cloud-based Web portal that allows access to real-time information on location and cargo integrity. For more information, please go to http://www.traklok.com.
About LaunchIt, Inc.
Founded in 2000, LaunchIt, Inc. specializes in representing transportation technology companies, increasing the visibility of their products and services in the business-to-business environment. Located in San Diego, California, LaunchIt has developed strategic relationships with other creative agencies as well as an experienced team of transportation industry experts. Through this network of experts, LaunchIt has grown from a strictly public relations firm into a full-service international sales and marketing firm. For more information, visit http://www.launchitpr.com.
Media Contact:
Susan Fall
LaunchIt Public Relations
858-490-1050
susan(at)launchitpr(dot)com