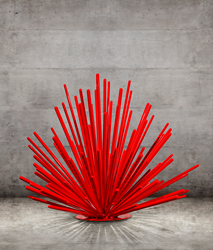 "I wasn't sure how I was going to build it, but the idea of a giant street urchin really turned me on." -- Sculptor Kevin Caron
Phoenix, Arizona (PRWEB) June 03, 2014
You can't get much more land-locked than Phoenix, but that didn't stop a Florida company from choosing an artist from this desert city to create a sculpture for their $141 million multi-use development in Florida, Harbourside Place. "The desert and sea have surprisingly similar forms sometimes," says the artist, sculptor Kevin Caron.
It was a smaller version of what Caron calls Street Urchins on Caron's Web site at http://www.kevincaron.com that caught the eye of Ryan Miller, Director of Development at Allied Capital and Development of South Florida. "This is just what we were looking for," he says. On the site, he saw the original Street Urchins, which range in size from the 2-inch tall, violet-hued Street Urchin "punks" that sport jaunty mohawks to a 16" x 24" stainless steel Street Bully. When Miller contacted Caron about creating a larger version, the full-time sculptor jumped on it. "I wasn't sure how I was going to build it, but the idea of a giant street urchin really turned me on," he says. Many of Caron's sculptures exceed 8 feet in height, with his largest to date, a commission for the city of Chandler, Arizona, 16 feet tall.
Yet this sculpture, titled "Giant Street Urchin," offered real challenges in not just how to build it, but also how to move it. Caron came up with an ingenious solution: the middle spine hides a 1-inch solid threaded rod to which he attaches a ring so it can be lifted into place. After it is installed, the ring is removed and a spine "cap" is screwed onto the rod, covering it completely.
More than 6 feet in diameter and 5 feet tall, the Giant Street Urchin sculpture actually would look at home in the desert. Its spiky exterior nearly resembles a barrel cactus, but it actually will look right at home at Harbourside Place (http://www.harboursideplace.com), where the entertainment plaza, outdoor amphitheater, shops and restaurants will be located along the Intracoastal Waterway and have a nautical feel.
Nonetheless, when the development opens this September, it will have one component that hails from the desert.
About Harbourside Place
Harbourside Place is situated in northern Palm Beach County, Florida, resting along the Intracoastal Waterway. The development is destined to be the region's most valued commerce and entertainment center, described by local officials as a destination that will finally give Jupiter a downtown area and sense of identity. Harbourside Place will feature the 4-Star Wyndham Grand Jupiter Beach alongside 36,500 square feet of restaurant space; 53,704 square feet of retail space; 59,126 square feet of office space; and 12,000 square feet of rooftop plaza. Harbourside Place will host a minimum of 24 events per year, including small concerts, festivals and cultural exhibits
About Kevin Caron
Artist Kevin Caron's work can be seen and heard in private and public places from California to Florida as well as online at http://www.kevincaron.com. His work garners praise for its fluid, whimsical and sometimes confounding forms. He was selected at Sculptor of the Year by Art Trends Magazine in 2012 and 2013. Caron is also known for his popular YouTube channel at http://www.youtube.com/kevincaron, where he regularly shares how he creates his work as well as reviews of welding and fabrication equipment.