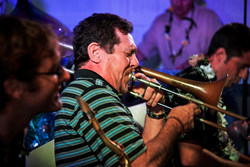 Kauai, Hawaii (PRWEB) June 04, 2014
National and locally known jazz and blues artists will descend on Kauai June 25th through 28th bringing award-winning blues and jazz during the 7th Annual Red Clay Jazz Festival. This year's line up features the 6-time Grammy Award winner Diane Schuur; the nationally acclaimed blues band, Mississippi Heat; Hawaii jazz legends, Jimmy Borges and Betty Loo Taylor, and Hawaiian slack key and steel guitar musicians, Ken Emerson and Will Bernard. Added to the line up are local jazz and blues groups playing at the festival's jam sessions and concerts. The jazz festival's main concert is set for Saturday, outdoors at Kauai Lagoons, starring Schuur, Mississippi Heat and the Kauai group, Swing Shift with Dennis McGraw and David Braun. This year festival organizers have added a second concert at Kauai Beach Resort on Friday night the 27th, featuring Borges and Taylor along with Emerson and Bernard. Four jam sessions are also scheduled around the island at popular resorts highlighting local jazz and blues musicians on Wednesday and Thursday the 25th and 26th. Also on Thursday, the 26th, is an educational workshop for aspiring jazz, blues and slack key musicians led by Borges, Emerson, Bernard and Pierre Lacocque of Mississippi Heat.
A key feature of Saturday's concert is a host of food and beverage booths providing a mix of locally grown organic and specialty foods along with beer, wine and Koloa Rum drinks. Restaurants featuring specialty dishes include The Right Slice, Nenea Restaurant, Kauai Marriott, Passion Café, Hukilau Lanai JO2 and Powerhouse Creamery.
Tent seating is available for Saturday's concert or attendees may bring beach chairs. Go to http://redclayjazz.org for more information and tickets. A special combined rate is offered for those attending both the Friday and Saturday concerts.
Background: The first Red Clay Jazz Festival took place on Kauai in 2008, stemming from efforts by the Kauai Concert Association (KCA) to bring jazz artists for concerts and to provide educational opportunities for local students. The W.S. Pete Robinson Memorial Jazz Fund, given to KCA in 2003 when the organization dreamed of organizing a jazz festival, seeded those efforts. Kauai's Red Clay Jazz Festival is sponsored, in part by the Hawaii Tourism Authority and Kauai County.
Photos available upon request by contacting Margy Parker, Media Relations for Red Clay Jazz Festival, 2014, mp(at)margyparker(dot)com or 808-651-5394.