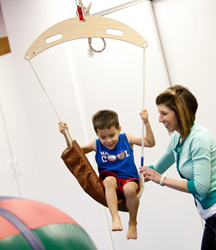 Denver, Colorado (PRWEB) May 28, 2014
The Sensory Processing Disorder (SPD) Foundation is seeking funding to build upon the groundbreaking research study published by researchers at University of California San Francisco (UCSF) in July, 2013, showing MRI scans which documented differences in the brains of children with SPD from the brains of children with Autism and ADHD--confirming a biological basis for the disorder.
The study was led by two members of the Foundation Scientific Workgroup, senior author Dr. Pratik Mukherjee, a professor of radiology and biomedical imaging and bioengineering at UCSF and Dr. Elysa Marco, MD, who led the study along with postdoctoral fellow Julia Owen, PhD. Marco is a cognitive and behavioral child neurologist at UCSF Benioff Children's Hospital. The UCSF researchers will again collaborate with the SPD Foundation to scan the brains of children eight years old and older before and after intensive occupational therapy to see whether there are differences in the brain from therapy.
Sensory Processing Disorder is a neurological disorder that disrupts the way an individual processes and responds to sensations. Individuals with SPD may over- or under-respond to one or more sensations (e.g., a loud sound, or light touch), crave sensations or may have problems with motor skills and coordination.
Delving deeper into the causes of SPD and the effects of treatment is critically important and timely. Earlier this month "The Washington Post" published an article about the legitimacy of SPD. There is one child in every classroom that has SPD and yet there's debate over whether SPD is a discrete medical disorder, which makes getting appropriate resources difficult. The SPD Foundation is continuing its quest to provide evidenced-based research that documents SPD, its impact on the brain and treatment effectiveness so that children and families can get the resources needed to positively impact their education, socialization and livelihood.
The team at USCF has funding for the MRI imaging. The SPD Foundation is seeking funding for the therapy, travel and study costs. A donation website has been launched to fund this critically important research. http://www.coloradogives.org/helpspd
ABOUT SENSORY PROCESSING DISORDER FOUNDATION
The Sensory Processing Disorder (SPD) Foundation, a Colorado 501(c)(3), is the world leader in research, education, and awareness for Sensory Processing Disorder, a neurological condition that disrupts the daily lives of more than 4 million Americans. The SPD Foundation offers educational programs, conducts SPD research, and provides resources for parents worldwide. Dr. Lucy Jane Miller, widely recognized as a leader in SPD research worldwide, founded the SPD Foundation in 1979. The SPD Foundation provides hope and help to individuals and families living with SPD. For more information, visit SPDFoundation.net or call 303-794-1182.