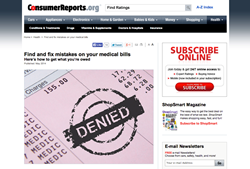 The article explains that if the wrong code is submitted to your insurance company, the insurer is not going to give payment.
Salem, VA (PRWEB) May 28, 2014
Consumer Reports published an article May of 2014 entitled "Find and Fix Mistakes on Your Medical Bills: Here's How to Get What You're Owed". The article lists five examples of possible medical billing errors, including reasons the health insurance company might deny a claim and possible solutions to each potential problem.
Metcalf asked Palmer, founder and CEO of Medical Billing Advocates of America, to explain how a billing department could enter a wrong code. Palmer gave several examples, replying, "Maybe they sent a code missing a digit… Or put the code for a pregnancy test on a man's record."
The article explains that if the wrong code is submitted to an individual's insurance company, the insurer is not going to give payment. The article suggests contacting the insurance company and questioning why reimbursement was not made to the provider. If there was a coding mistake, ask the medical facility to resubmit the bill to the insurer.
According to Metcalf's article, the patient or a family member/friend should try to take notes during the stay at a healthcare facility, if at all possible, to have a written record of care provided to compare with one's final bill. These notes should detail facility employees' names and the date and time of treatments and procedures – including medications and supplies that were used.
The article goes on to state that typos and lack of prior authorization are potential causes for insurance denial. A typo on any of an individual's personal information could be the culprit for a denied claim. Metcalf reports that incorrect or old insurance information are additional possible scenarios in which an insurer might deny a claim.
Additionally, the writer advises the reader to become familiar with their health insurance policy to help identify errors in coverage and reimbursement from the insurer. If the consumer does not understand something within the policy, contact the health insurance company's customer service department and ask them to explain it.
If the consumer is unsure how to proceed in correcting medical billing or insurance reimbursement errors, or if he/she is uncomfortable approaching the provider or insurer, contact a medical billing advocate; they are the experts in this field.
Medical Billing Advocates of America, located in Salem, Virginia, helps consumers across the U.S. achieve "True & Accurate" charges and "Fair & Reasonable" pricing on medical bills. Call MBAA at 1-855-203-7058 or email MBAA at advocate(at)medicalrecoveryservices(dot)org.
This article is also available in the June 2014 issue of Consumer Reports on Health.