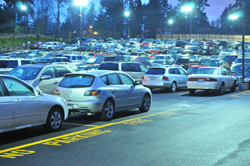 We are focused at creating partnerships that will enhance and improve customer experiences at every step.
Seattle, WA (PRWEB) May 30, 2014
Greenbee Parking, a fast rising airport parking service, has announced an expansion of their services in Seattle with a new partnership. They have tied up with Park N Jet, a parking service adjacent to the Seattle-Tacoma (SEA) airport in order to offer more options to their customers here. Located just a few minutes away from the airport, this service will allow Greenbee customers to park in leisure and avoid the airport rush altogether. Then can then avail the shuttle that runs round the clock at 15-20 minute intervals and is free for all Greenbee customers. These deals come with great customer service, secured and monitored parking lots, easy drive thru check in and even complimentary beverages, all adding to great traveler experiences. With the cheap and affordable Seattle airport parking rates they promise greater savings for every traveler as well.
"We are focused at creating partnerships that will enhance and improve customer experiences at every step," said Christine Cooper – Marketing Coordinator, Greenbee Parking. "Our partnership with Park N Jet will allow us to increase the portfolio of our services and offer so much more without increasing the prices. We hope to come up with more innovative offers at equally cheap Seattle airport parking rates in future."
Seattle–Tacoma International Airport Parking Information
The Seattle-Tacoma International Airport ranks as one of the busiest and one of the fastest growing airports in the world. In 2013 it recorded over 34 million passenger footfalls which make it the 15th busiest airport in the country. It connects with all major destinations in the nation as well as the world with non-stop flights from leading carriers connecting them all. What makes it stand apart is that its business also makes it one of the largest generators of ground traffic which means despite its huge 13,000-car parking garage, there is still demand for more parking options. Complementing the world's largest parking structure under one roof, are innovative and young players like Greenbee Parking who have come up with additional benefits for travelers here. Now travelers will no longer have to worry about battling the mad airport rush since they can book ahead with Greenbee and park in Park N Jet in leisure. Even if they are running late and are on last minute bookings they can still be assured of secure spots for their vehicles at very cheap Seattle airport parking rates.
The Greenbee Airport Parking Solution
Greenbeeparking.com is the connection between consumers and parking vacancies in close proximity to major airports and seaports. The parking spaces are very affordable because the company has negotiated discounted rates with major hotel chains for the parking spaces that are not currently occupied. Here's how it works.
Greenbee Parking puts the available inventory of parking spaces on their website to be reserved by business and leisure travelers looking for cheap airport parking. This alternative method for finding parking equates to significant savings for the traveler. You can learn more about their offers from (http://youtu.be/RWc3dqhugFA) or via the web at http://www.greenbeeparking.com.
About Greenbee Parking
Greenbee Parking is the nation's most innovative long term parking company, with a new way of making long term parking affordable. The company is rapidly adding new airports to its network.