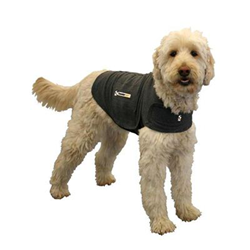 Many of us consider our pets to be members of the family, which is why it's important to remember that in a disaster...what's not safe for you is not safe for them.
Durham, N.C. (PRWEB) May 30, 2014
With many parts of the nation already devastated by harmful wildfires in Southern California and flooding and tornadoes throughout Arkansas, Alabama, Kansas, Florida, Georgia, Kentucky, Iowa and Louisiana, June marks National Pet Preparedness Month. ThunderWorks, makers of the famous ThunderShirt and the industry's leading manufacturer of the most comprehensive line of pet anxiety and stress product solutions, urges pet owners to use National Pet Preparedness Month as a positive reminder to proactively make preparations should they encounter a natural disaster.
Remembering to include your pet in disaster plans can reduce potential dangers for the pets themselves, pet owners and first responders. Like humans, pets can become even more stressed or anxious at the onset of a severe weather event, which is why keeping pets calm during the evacuation process is a crucial component to pet disaster preparedness. Not only does a calm pet make for a smoother evacuation, but it also minimizes the chance for a pet to be left behind or lost during a disaster.
"Many of us consider our pets to be members of the family, which is why it's important to remember that in a disaster…what's not safe for you is not safe for them," said Phil Blizzard, founder of ThunderShirt. "ThunderShirt makes it possible for pets to remain calmer and easier to handle should your family need to evacuate. This natural and easy-to-use calming solution should be part of every pet parent's evacuation plan."
ThunderWorks provides the following tips for pet owners to keep in mind when preparing for a possible severe weather event.
o Be sure pets have a permanent pet ID such as a microchip to help locate them in case they become lost.
o Try to keep a pet as calm as possible during a severe weather event. Use a ThunderShirt, keep their favorite toy around and try not to overexcite them.
o Make a disaster kit with extra pet food, litter, water and accessories (toys, dog bed) to have in case you are left home with no power, or are forced to evacuate your home.
o Keep photographs, medications and medical records for each pet stored in sealed/waterproof plastic bags (and cloud back up if applicable) to bring with you in the wake of a disaster for locating purposes.
o Find out ahead of time if the evacuation destination is pet-friendly. If not, make arrangements for a place to take pets if a disaster hits.
o Make sure that pets are up-to-date on their vaccinations. If a pet needs to be boarded, kennels typically require proof of current vaccinations.
o Assign a back up caretaker (such as a neighbor or nearby friend) who is comfortable taking the pet should you not be able to return home during a disaster.
For more information about ThunderWorks, or if you are a member of the media and would like to request a product sample or interview with company founder, Phil Blizzard, please contact Kerry Sutherland at K. Sutherland PR, Kerry(at)ksutherlandpr(dot)com or 949-328-4895.
About ThunderShirt and ThunderWorks
Founded in 2009 in Durham, N.C., ThunderShirt's mission is to bring relief to the millions of dogs, cats and their families struggling to cope with anxieties. The ThunderShirt is designed to apply a constant, gentle pressure to a dog or cat's torso creating a dramatic calming effect for most users. ThunderShirt continues to investigate anxiety and fear issues with scientific-based studies and surveys from recognized veterinarians and pet owners. ThunderShirt has already helped millions of dogs and cats across the country and around the world. The company also donates thousands of ThunderWorks products and funding to rescue groups and shelters to help these organizations manage their anxiety cases and find permanent homes.
In recognition of the company's expanding product line into more calming solutions, ThunderShirt has changed its corporate name to ThunderWorks. As always, the company is committed to developing calming pet products that are effective, simple to use and strengthen the bond between pet and pet parent. Together, let's be better humans to our pets. Products are sold at http://www.ThunderWorks.com and by retail stores, veterinarians, trainers and kennels across the country.