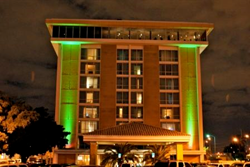 We want our customers to know that they can get real value with us every time.
Miami, FL (PRWEB) June 02, 2014
Greenbee Parking, a new and fast rising airport parking service, has announced a series of new deals that will completely change the way people look at parking budgets from now on. Announcing the first of many changes, the young company has come up with creative and innovative ways to book and park around the Miami (MIA) airport. Booking ahead is easy to get a good and secure parking spot, whether way in advance or in the last minute. All one has to do is quickly visit their site, choose the spot and pay and voila! There is a great spot just waiting to be filled up no matter how bad the rush is every time. What makes these deals even sweeter is that these super easy to access spots do not come with a premium price. In fact, the regular prices offered by Greenbee Parking are so affordable that they may render Miami airport parking coupons completely useless.
"We want our customers to know that they can get real value with us every time," said Christine Cooper – Marketing Coordinator, Greenbee Parking. "We want to completely demolish the fact that only high prices get good service. This is why we have come up with many offers at very cheap rates which mean one is no longer dependent on Miami airport parking coupons to get value."
Miami International Airport Parking Information
Miami International Airport (MIA) is one of the busiest airports in the world in terms of international passenger and freight movements. Located near downtown Miami it sees a lot of business as well as leisure traffic. But what really makes it stand out is that it is the preferred airport for travelers flying in and out of Latin America and the Caribbean, making it one of the largest U.S. gateways for these regions. Among all U.S. Airports, MIA ranks first for international freight movements and second in international passenger footfalls. Increasing business, which generates around $32.8 billion in annual revenue, is now seeing an expansion of the 3,230 acres of airport land into more than seven million square feet of business and hospitality space. Greenbee Parking has stepped in to complement this expansion with their own innovative parking offers that are designed to aid in traveler comfort even without Miami airport parking coupons.
The Greenbee Airport Parking Solution
Greenbeeparking.com is the connection between consumers and parking vacancies in close proximity to major airports and seaports. The parking spaces are very affordable because the company has negotiated discounted rates with major hotel chains for the parking spaces that are not currently occupied. Here's how it works.
Greenbee Parking puts the available inventory of parking spaces on their website to be reserved by business and leisure travelers looking for cheap airport parking. This alternative method for finding parking equates to significant savings for the traveler. You can learn more about their offers from (http://youtu.be/RWc3dqhugFA) or via the web at http://www.greenbeeparking.com.
About Greenbee Parking
Greenbee Parking is the nation's most innovative long term parking company, with a new way of making long term parking affordable. The company is rapidly adding new airports to its network.