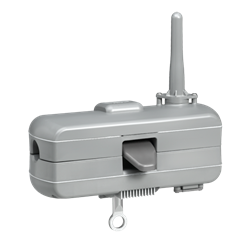 Tollgrade exemplifies the best of smart grid technologies in the past year.
Reston, VA (PRWEB) May 28, 2014
Tollgrade Communications, Inc., the industry leader in redefining the global standard for reliability at the world's largest electric utilities and telecommunications providers, announced today that their LightHouse® line of smart grid sensors has received a 2014 Smart Grid Product of the Year Award from SmartGrid.TMCnet.com, a TMC and Crossfire Media sponsored technology media website. Tollgrade's LightHouse platform provides electric utilities with real-time visibility into their distribution grid, enabling them to improve reliability, visibility, and grid modernization and to optimize network planning.
"We are pleased to receive this Product of the Year Award from SmartGrid.TMCnet.com," said Erik Christian, Vice President of Smart Grid for Tollgrade Communications. "Today's electric utilities need to much more actively monitor and manage their voltage levels from the substation throughout the entire distribution network. As more sources of Distributed Generation (DG) are introduced from alternative energy sources such as solar and wind, they change the profile of how power is flowing through the grid, making intermediate voltage measurements on a feeder a requirement. Our LightHouse platform was designed to help them address this."
Tollgrade's LightHouse solution is helping utilities solve the real-world challenges that impact the reliability of the distribution grid. Tollgrade helps utilities reach their goals in terms of visibility, reliability, asset protection and outage avoidance, as well as grid modernization and the management of renewable energy sources, all while saving them substantially on their OpEx costs. Unlike other sensors on the market, Tollgrade's LightHouse platform of inductively powered smart grid sensors are hot stick deployable and measure voltage down to 0.5%.
Tollgrade's LightHouse sensors come with wireless data plans to send data back to the utility's SCADA and historians at their operations centers. Combined with Tollgrade's predictive analytics software, LightHouse monitoring allows utilities to protect high-value assets, detect outages before customers call, and, in many cases, prevent future problems. Today, LightHouse is used by some of the world's largest Investor Owned Utilities (IOUs), Distribution System Operators (DSOs), municipalities and co-ops on three continents.
"The solutions that have been selected for the 2014 Smart Grid Product of the Year Award reflect the diverse range of innovation driving this market. Congratulations to Tollgrade which exemplified the best of smart grid technologies in the past year," said Carl Ford, CEO & Community Developer, Crossfire Media.
"It is my pleasure to recognize Tollgrade with a Smart Grid Product of the Year Award for its contribution to the advancement of smart grid technologies," said Rich Tehrani, CEO, TMC. "I look forward to seeing more innovation from Tollgrade in the coming year."
Winners are published on smart-grid.tmcnet.com and included in its E-newsletter. For more information, please visit http://www.tmcnet.com.
About Tollgrade
With more than 200 million lines under test, millions of utility outage minutes avoided annually and 25 years of experience successfully locating faults at the world's largest electric utility companies and telecommunication service providers, Tollgrade is redefining the global standard for reliability. Our award-winning fault detection hardware and predictive analytics software is deployed on four continents to help operators avoid network outages and reduce customer downtime. Tollgrade has been recognized as one of the Top 13 Smart Grid Companies to Watch in 2013 by SmartGrid News, received the Fierce Energy award for "Substation Automation and Distribution Automation" and a Best Practice Award from Frost + Sullivan. In 2013, the company was named the Smart Grid Sensor market share leader by IHS Research, and a Platt's Global Energy Awards finalist. Learn more by visiting http://www.tollgrade.com.
About Smart Grid
Smart Grid is the leading website dedicated to the rapidly developing technologies that enable and harness Smart Grids, with particular emphasis on applications, products and software for improving residential, business, institutional and facilities' power consumption.
This Website offers information and analysis for anyone interested in researching, purchasing and applying smart grid technologies. It includes Smart Grid industry news and expert analysis by Carl Ford, Crossfire Media. Visitors will find free resources including Online Communities, blogs, feature articles, videos and more. SmartGrid.TMCnet.com is sponsored by TMC, an integrated, global media company helping clients in print, in person and online, and Crossfire Media, an integrated marketing company with a core focus on future trends in technology. Please visit http://smart-grid.tmcnet.com.
About TMC
TMC is a global, integrated media company that helps clients build communities in print, in person and online. TMC publishes multiple magazines including CUSTOMER, INTERNET TELEPHONY, M2M Evolution and Cloud Computing. TMCnet is read by more than 1.5 million unique visitors each month, and is the leading source of news and articles for the communications and technology industries. TMC is also the producer of ITEXPO, the world's leading B2B communications event, as well as industry events: M2M Evolution; Cloud4SMB Expo; DevCon5; HTML5 Summit; Super Wi-Fi Summit, CVx; AstriCon; StartupCamp, and more. Visit TMC Events for a complete listing and further information. For more information about TMC, visit http://www.tmcnet.com.
About Crossfire Media:
Crossfire Media is an integrated marketing company with a core focus on future trends in technology. We service communities of interest with conferences, tradeshows, webinars and newsletters. Crossfire Media services also include providing insight to technology companies and associations to assist in the development of business and technical strategy as well as the development and implementation of effective communications and marketing strategy.
Media Contacts:
For more information, contact:
Cathy Clarke
CNC Associates
+1 617-527-2089 (mobile)
cathy(at)cncassocs(dot)com
Anne-Laure Leroyer
Marketing Communication Manager
Tollgrade Communications, Inc.
+1 202-701-0083 (mobile)
ALeroyer(at)tollgrade(dot)com
TMC Contact:
Rebecca Conyngham
Marketing Manager
203-852-6800, ext. 287
rconyngham(at)tmcnet(dot)com