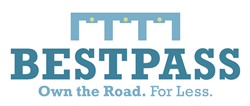 Albany, NY (PRWEB) May 29, 2014
BESTPASS™, Inc., providers of bulk purchasing and streamlined toll management services to commercial fleets, today announced two additions to its growing team of management and development professionals. The expansion reflects the rising number of trucking operations that are using the company's toll management and discount services, and the recent addition of new tolling authorities to the BESTPASS network.
Joining the BESTPASS team as Director of Business Development is Joe Clavelle, who brings many years of business development and international sales experience in the toll, bypass and Intelligent Transportation Systems (ITS) arena. From a base in Saskatchewan, Clavelle will lead the company's expansion into new markets. Previously, Clavelle was Director of Business Development and International Sales at Drivewyze/Intelligent Imaging Systems where he introduced the company to toll and ITS markets and regions in North and South America.
Andrew Smith, a new Senior Software Developer at BESTPASS, will take a leadership role in developing state of the art billing and end-user solutions. In addition to increasing efficiencies in internal processes, he will work on customer-facing enhancements that expand the company's offerings, including a suite of automatic notifications that clients can enable to proactively manage their accounts. Smith brings 20 years of experience in IT and software development to BESTPASS. Previously, he served as Director of Research and Development for Transfinder and as Development Manager at InfoEd.
"With more than 250,000 pieces of equipment and over 125,000 transponders in service, we're processing over $22 million in tolls monthly for trucking operations, including some of the country's largest fleets," said John Andrews, president and CEO of BESTPASS. "Joe Clavelle and Andrew Smith are welcome additions to the BESTPASS team as we strive to continually improve the services we provide our customers."
BESTPASS uses its bulk purchasing power to provide commercial motor carriers with savings beyond standard toll charge discounts. Savings are also derived by maximizing efficiency through its toll management solutions, including user-friendly account management tools and consolidated billing, and by providing a single transponder for both toll and weigh station bypass. To date, BESTPASS has provided customers with $30 million in toll cost savings.
About BESTPASS™, Inc.
Founded in 2003 by the New York State Motor Truck Association, BESTPASS was designed for truckers, by truckers, to save commercial motor carriers time and money. BESTPASS offers a streamlined, single-source toll management service that includes toll discounts, consolidated billing, violation processing and a single device for both toll and weigh station bypass. BESTPASS is compatible with a growing number of toll and weigh station bypass networks and has partnerships with state highway authorities throughout the United States. Currently, BESTPASS customers have more than 250,000 pieces of equipment and over 125,000 transponders in service, resulting in over $22 million in tolls processed monthly. For more information, visit http://www.BESTPASS.com.
Media Contact:
Susan Fall
LaunchIt Public Relations
858-490-1050
susan(at)launchitpr(dot)com