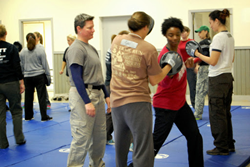 Orange Beach, ALA (PRWEB) May 27, 2014
Women in law enforcement and active-duty military from all areas of the South are invited to attend the Advanced Female Tactical Training: Reloaded session June 16-19 in Pensacola, Fla.
Columbia Southern University, an online university based in Orange Beach, Ala., is sponsoring workshops on armed training at the Escambia County (Fla.) Sheriff's Office Training Center, 1190 W. Leonard St., and the firing range located at 13009 Beulah Road in Cantonment.
Instructors Amy Foster and Dorcia Meador, both veteran instructors in law enforcement, will teach defensive tactics and firearm precision. The four-day session will address armed situations, firearms skills and defensive techniques used in the field such as ground control. The AFTT: Reloaded course will also include speed shooting techniques, scenario based training, low-light tactics and rapid response to violence of action.
Meador is a retired Fort Worth, Texas, police officer with more than 30 years of service. For more than 14 years, she has served as the department's range master. Her expertise is called upon during the investigations of all officer-involved shootings, department weapon and equipment selection and evaluation. Foster has served in law enforcement for more than 20 years in Washington. She currently holds the rank of lieutenant and commands her department's SWAT, K-9, explosives, hostage negotiators, tactical medics, motors and civil disturbance teams.
The costs of the AFTT: Reloaded is $495 for basic registration and $450 for CSU students, alumni and CSU learning partners. To register, please visit http://www.columbiasouthern.edu/About-CSU/CSUNews/Events/2014-06-AFTT. For more information, contact Jessica Black at jessica.black(at)columbiasouthern(dot)edu
Columbia Southern University is one of the nation's top online universities that offers online associate, bachelor's and master's degrees in many fields including criminal justice, organizational leadership, business administration, public administration, occupational safety and health.