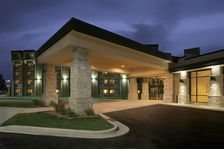 "We are constantly trying to come up with new and innovative offers to better serve our clients."
Milwaukee, WI (PRWEB) June 06, 2014
Greenbee Parking, one of the fastest growing airport parking services in North America, has just announced a series of new parking deals for all their customers using the Milwaukee (MKE) airport. In their latest web upgrades the young company has revealed that there will be amazing ways to save on parking expenses whether one is booking the parking space for a long duration or a shorter one. All these deals now come with Milwaukee airport parking rates that have been further slashed to make them affordable for one and all. Now there are dual benefits of booking ahead with Greenbee Parking whenever you are traveling, you can easily avoid the mad rush and stress of airport parking and you can expect anything between 30-75% savings on your parking expenses.
"We are constantly trying to come up with new and innovative offers to better serve our clients," said Christine Cooper – Marketing Coordinator, Greenbee Parking. "Our web upgrades help us announce these new deals easily to all our clients and keep in sync with the latest needs and demands related to airport parking across the nation. These efforts have helped us design cheap Milwaukee airport parking rates that will enable travelers here to save more than they could ever before."
General Mitchell International Airport Parking Information
General Mitchell International Airport is a joint civil-military and public airport which serves the regions of Wisconsin, northern Illinois & Chicago simultaneously. Located very close, just 5 miles south, to the central business district of Milwaukee, the airport is the only one in Illinois which is served by all the major domestic carriers. Also called as the preferred third airport for Chicago, it has non-stop flights to 36 cities which accounts for its business, both in terms of business and leisure travelers. The airport is named after General Billy Mitchell, a United States Army Air Service General who is widely regarded as the father of the US Air Force. Increase in business has seen many renovations and upgrades in recent years including in airport parking. In this the authorities have been partnered with young entrants like Greenbee Parking who offer enhanced services in affordable Milwaukee airport parking rates, as announced in their web upgrades.
The Greenbee Airport Parking Solution
Greenbeeparking.com is the connection between consumers and parking vacancies in close proximity to major airports and seaports. The parking spaces are very affordable because the company has negotiated discounted rates with major hotel chains for the parking spaces that are not currently occupied. Here's how it works.
Greenbee Parking puts the available inventory of parking spaces on their website to be reserved by business and leisure travelers looking for cheap airport parking. This alternative method for finding parking equates to significant savings for the traveler. You can learn more about their offers from (http://youtu.be/RWc3dqhugFA) or via the web at http://www.greenbeeparking.com.
About Greenbee Parking
Greenbee Parking is the nation's most innovative long term parking company, with a new way of making long term parking affordable. The company is rapidly adding new airports to its network.