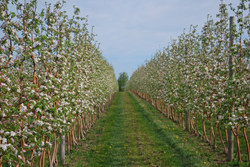 "The Apple Pie Trail has become one of our most important tourism product featuring an authentic taste of place in Ontario's largest apple growing region." Patti Kendall, founder of the Apple Pie Trail in 2009.
Blue Mountains, Ontario (PRWEB) May 28, 2014
Launching June 3rd, just in time for the spectacular beauty of Apple Blossom season, the 2014 Ontario Tourism award-winning Apple Pie Trail is ready to welcome visitors. Surrounded by the natural splendor of the Niagara Escarpment, the Apple Pie Trail is a unique celebration of all things apple – the food, the art, the history, the adventure – in the heart of the country's largest concentrated apple growing region. Winding its scenic way from Collingwood, through Blue Mountain Village and on to Meaford, the Trail boasts 37 stops this year, offering the best in local culinary experiences, vineyards, spas, artisan products and orchards PLUS outdoor adventures including hiking, biking or paddling coupled with dining and exploring. The Trail provides an easy tool to help guide visitors through the area to find products and experiences they won't find anywhere else. And it keeps getting better.
Entering its 6th year, the Apple Pie Trail continues to evolve. Every year more businesses want to get involved and every year more visitors – from all over the world – come for the truly unique experiences they won't find anywhere else.