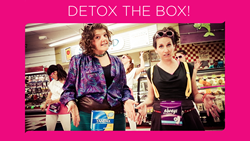 "This hilarious video sends a hard-hitting message to the biggest consumer product company on the planet that women will no longer stand for secret toxic chemicals in products we use on some of the most absorptive skin on our bodies."
MISSOULA, Mont. (PRWEB) May 27, 2014
More than 15,000 people have viewed Women's Voices for the Earth's hilarious "Detox the Box" video less than a week after it was released. Based on Saturday Night Lives's wildly popular "Dick in Box" featuring Justin Timberlake, "Detox the Box" aims to convince Procter & Gamble, maker of Tampax and Always and one the world's largest feminine product manufacturers, to disclose and remove toxic chemicals linked to cancer, hormone disruption, allergic rashes and more.
"We're thrilled that thousands of women are responding to the serious message behind this fun spoof video," said Erin Switalski, Executive Director at Women's Voices for the Earth. "Women have tremendous economic power, and the more this catches on, the more companies will be held accountable for ingredients that harm our health."
According to WVE's groundbreaking "Chem Fatale" report released last fall, tampons are used by up to 85 percent of menstruating women and may contain dioxins or pesticide residues linked to cancer, hormone disruptors, allergens and irritants from fragrance. Feminine wipes, feminine washes and feminine deodorant products contain toxic preservatives like parabens, which may be hormone disruptors, or quaternium-15 and DMDM hydantoin, which release cancer-causing formaldehyde. Most feminine care products are fragranced and commonly contain known fragrance allergens—including anti-itch products. These chemicals sometimes exacerbate the very symptoms a woman is intending to self-treat with these products.
So far, Procter & Gamble has remained silent about WVE's findings and the new video.
"This video is not only a hilarious way to talk about an uncomfortable subject," said Cassidy Randall, Director of Outreach and Engagement at Women's Voices for the Earth and producer of the film. "It sends a hard-hitting message to the biggest consumer product company on the planet that women will no longer stand for secret toxic chemicals in products we use on some of the most absorptive skin on our bodies."
Special thanks to film directors Gita Saedi Kiely of West of Kin Productions and Katy-Robin Garton of Sprout Films.
Founded in 1995, Women's Voices for the Earth amplifies women's voices to eliminate the toxic chemicals that harm our health and communities. With thousands of members across the United States, WVE changes corporate practices, holds government accountable, and works to ensure a toxic-free future for all. Learn more at http://www.womensvoices.org.