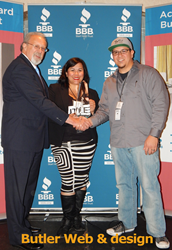 "We are proud to recognize these Valley companies for their continued commitment to quality, ethics and outstanding customer service." Blair Looney, CEO and president of the BBB.
Fresno, California (PRWEB) May 28, 2014
Congratulations are in order for Butler Web and Design, an online marketing and design company in the Fresno market that is making its name as the type of organization that delivers quality work and upholds the highest of standards in their business conduct. Butler was recently honored by the Better Business Bureau as a recipient of the 2014 Ethics Award for Marketplace Excellence. The Ethics Award is BBB's annual award program that honors outstanding local for-profit companies that have demonstrated a commitment to ethical business practices, both in operations and in terms of integrity, reliability and responsiveness to employees, vendors and customers. Last week the BBB hosted a luncheon to announce this year's award recipients. Sean and Alaine Tambagahan, siblings who are the life blood of the company, were in attendance and in total shock when Butler's name was announced.
When accepting the beautiful award they were smiling from ear to ear and Sean shared his thoughts in saying, "In a world where we have to applaud when a business simply does what they are supposed to do, it is humbling to be recognized among the other great businesses."
In addition, Butler Web and Design was recognized with a Certificate of Recognition from California Legislature signed by 23rd District Assemblyman, Jim Patterson. They also received a Certificate of Recognition from the California State Senate for superior commitment to consumers, employees, and the surrounding community by the BB of Central California, signed by State Senator Tom Berryhill, 14th District.
Butler Web and Design was nominated and recognized by a client whose experience working with the staff at Butler far exceeded their expectations in quality of service and excellence in work product. The working relationships that Butler builds are rooted in high standards of excellence and the organization's values are centered around honesty and treating client fairly. Butler Web and Design is proud to be a family owned and operated company whose owners hold to their own personal moral, ethical, religious, political, and philosophical beliefs. This conviction to being a values based organization is why the independent panel of judges has recognized Butler as a community leader. Hand in hand with Butler's strong belief in conducting ethical business, they offer free training and consultations to local businesses and clients on topics such as Website Design and Search Engine Optimization. They believe that every small business should be empowered with the knowledge needed to accomplish their business goals without having to waste thousands of dollars learning things the hard way. One of their guiding principles is that everyone deserves the right to make an educated decision.
Other award recipients included: Karen L. Lynch Inc. a Professional Law Corporation, Granville Homes and Ad-Venture Video Production.
ABOUT
Butler Web and Design is branding agency with offices in Clovis California, serving businesses in Fresno and the Central Valley. We specialize in 3 areas of branding: Brand Identity (Graphic Design), Website Design and Online Marketing. Butler started out of the need for a simple, cost-effective solution for branding, web-development and SEO. Our creative team works closely with our clients to design and develop impressive websites and branding materials that get results. Visit Butler on the web at Butler Web and Design and your invited to connect with Butler Web and Design on Facebook and @butlerweb on Twitter.