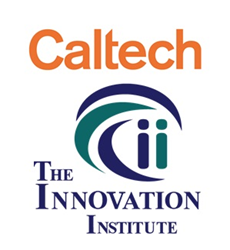 "Together, we can explore new technologies and treatments that will benefit society."
La Palma, California (PRWEB) May 27, 2014
The Innovation Institute announced today that the California Institute of Technology (Caltech) has signed a memorandum of understanding that will give The Innovation Institute the opportunity to collaborate directly with researchers at Caltech on the development of new healthcare products.
"Caltech is a world-class organization, and I look forward to working together with them," said Joe Randolph, president and CEO of The Innovation Institute. "I have been extremely impressed with the caliber of staff at Caltech, and I am hopeful that we will make breakthroughs that will make a difference," added Randolph.
"We have a rich history in health sciences, and have created an outstanding department of medical engineering at Caltech. We look forward to working with The Innovation Institute to further the advancement of medical research and development," said Yu-Chong Tai, Ph.D., executive officer for Medical Engineering at Caltech. "Together, we can explore new technologies and treatments that will benefit society," Tai added.
The Innovation Institute, a for-profit LLC, was launched in January 2013 by the St. Joseph Health system in Irvine, California, its first member owner. It was established to serve as a collaborative of seven non-profit health systems focused on innovation and growth. To date, two health systems have invested $50 million. Bon Secours Health System in Marriottsville, Maryland joined as the second member-owner system in October 2013. The Innovation Institute works with physicians, employees, and industry business partners to seek new products, ideas, and concepts that can be commercialized. Their goal is to bring together providers and industry to discover new ways to reduce costs and transform care delivery. In its first full year of operation, The Innovation Institute is profitable and growing.
The Innovation Institute also has an alliance agreement with Cleveland Clinic Innovations, designed to advance innovation and support the commercialization process. Cleveland Clinic Innovations has demonstrated a track record in developing intellectual property. Cleveland Clinic brings their experience in new product development, as well as a team of people who support The Innovation Institute.
To date, The Innovation Institute has received over forty (40) idea submissions, which are in various stages of evaluation. These range from medical devices, IT, apps, wearable devices, and patient consumables.
About the California Institute of Technology
Caltech is a world-renowned research and education institution focused on science and engineering, where faculty and students pursue bold and innovative advances that will transform our future. The scientific, engineering, and technological contributions of Caltech's faculty and alumni have earned national and international recognition, including 33 Nobel Prizes. Caltech, in Pasadena, California, manages the Jet Propulsion Laboratory (JPL) for NASA, and owns and operates large-scale research facilities that include the Palomar Observatory and the W. M. Keck Observatory. Caltech is an independent, privately supported institution. (http://www.caltech.edu)
About The Innovation Institute
The Innovation Institute is an independent, for-profit LLC structured to cultivate innovative solutions to transform healthcare delivery. The Innovation Institute will be owned by seven non-profit health systems. This collaborative will tap into physicians, employees, and industry business partners to incubate and commercialize new products and ideas. Comprised of three distinct elements – an innovation lab, an investment fund, and a shared services group (Enterprise Development Group), the Institute strives to "do more, with less, for more people." For more information, visit http://www.ii4change.com.