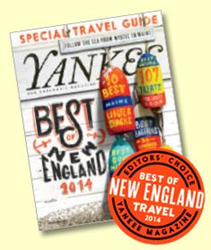 We were pleasantly surprised and truly honored to be named by Yankee Magazine to the Best of New England list.
Mansfield, CT (PRWEB) May 28, 2014
The Farmer's Cow Calfé & Creamery has been recognized as the "Best of New England Dairy Bar" and a 2014 "Editors' Choice" winner in Yankee Magazine's Travel Guide to New England, featured on newsstands now. This designation is awarded by Yankee's editors and contributors who name select restaurants, lodgings, and attractions in New England to the exclusive list. For 38 years, Yankee Magazine's Travel Guide to New England has been the most widely distributed and best-selling guide to the six-state region, providing readers with a comprehensive vacation-planning tool and daily reference.
The Farmer's Cow Calfé & Creamery, located in Mansfield, Conn., serves breakfast, lunch and dinner in a comfortable environment that merges the fun of a dairy bar with the experience of a neighborhood café. Every detail from the bright décor to the menu featuring local ingredients to the retail selection supports The Farmer's Cow mission to promote real local Connecticut agriculture.
The ice cream counter features over 20 flavors of premium ice cream made with The Farmer's Cow fresh Connecticut milk and rich cream with all natural ingredients. Every farm themed flavor is artfully developed and carefully crafted until it is just right. Signature flavors include Cottage Garden Raspberry Jasmine, Farmland Crunch and Muddy Boots Knee Deep in Chocolate.
A unique feature at the Calfé & Creamery is the All-You-Can-Drink Milk Bar with six self-service taps. Customers can help themselves to try The Farmer's Cow half and half, whole milk and chocolate milk along with a rotating variety of 30 different flavors ranging from salted caramel to watermelon to root beer.
"We were pleasantly surprised and truly honored to be named by Yankee Magazine to the Best of New England list," said Robin Chesmer, Managing Member of The Farmer's Cow. "Congratulations to all of our hard working staff and thank you to our loyal customers for helping The Farmer's Cow stand out in the dairy bar field!"
"Reading our annual special Travel Guide section, 'Best of New England,' is as close to sitting down with Yankee's editors and getting us to spill our favorite places as one can get," says Mel Allen, editor of Yankee Magazine. "New England is where we live, and we all have our own personal 'best' places. We're joined by our state experts whose sole task is to surprise us: to tell us about restaurants and attractions and local secrets that will make this issue one to keep on hand whenever you set off to explore New England. Whether your journeys take you inland or to the sea, we hope these pages come along. As always, let us know what you find."
Yankee Magazine's May/June 2014 Travel Guide features more than 300 "Best of New England — Editors' Choice" winners, which include the region's best attractions, food & dining, lodging, and bargains. This special issue also names 120 top events around New England. The issue's maritime theme takes readers on a summertime journey from Mystic to Maine with articles about our region's seafaring history, the lure of lobster shacks, and more.
For more information about Yankee Magazine's Travel Guide to New England, visit: http://www.yankeemagazine.com.
###
About The Farmer's Cow
The Farmer's Cow Calfé & Creamery is located at 86 Storrs Road, Mansfield, CT and is open daily from 7 a.m. to 9 p.m., with extended weekend hours during the summer. Outdoor seating is available. The Farmer's Cow is a group of six Connecticut dairy farms that produces fresh local milk, half & half, heavy cream and ice cream for Southern New England. They also sell Connecticut‐sourced, all‐natural eggs, apple cider, seasonal beverages and coffee. The Farmer's Cow's mission is to promote Connecticut agriculture and show that "Local is Fresh!"
About Yankee Magazine
Yankee Magazine was founded in 1935 and is based in Dublin, New Hampshire. It is the only magazine devoted to New England through its coverage of travel, home, food, and feature stories. With a total distribution of 330,000 and a total audience of 1.9 million readers, it is published by Yankee Publishing Incorporated (YPI), a family-owned, independent magazine publisher. YPI also owns the nation's oldest continuously produced periodical, The Old Farmer's Almanac, and McLean Communications. More information about Yankee: New England's Magazine is available at: YankeeMagazine.com/press.