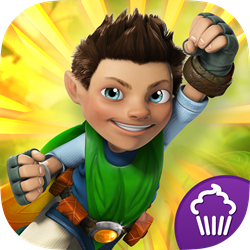 We are thrilled to offer fans a chance to participate in this 'Tree Fu Tom' adventure and create a bit of magic of their own.
New York, NY (PRWEB) May 29, 2014
Cupcake Digital and FremantleMedia Kids & Family Entertainment announce the release of Tree Fu Tom Squizzle Quest, based on the preschool television series "Tree Fu Tom," currently airing on Sprout and available from several online providers including iTunes, Amazon Instant Video, Google Play and NOOK®. The Squizzle Quest app follows Tom on a daring adventure with his friends Twigs, Ariela and Squirmtum as they search for their lost squizzle. Along the way they come across icky slimeweeds, sticky spider webs and even the misunderstood spider, Rickety McGlum. The interactive story app is available today for an introductory price of 99 cents May 29 & 30 only, and will then be available for the full price of $2.99 on the App Store, Amazon Appstore, Google Play and for NOOK, Nabi and Tabeo devices.
"We are thrilled to offer fans a chance to participate in this 'Tree Fu Tom' adventure and create a bit of magic of their own," said Amory Millard, Cupcake Digital EVP of Brand & Business Development. "Kids and parents will enjoy the narrated story, activities and games inspired by the show."
Tree Fu Tom Squizzle Quest features include:

A narrated story with highlighted text for reading practice
Four fun-filled games:
Tree Fu Hero: Match scrolling colored buttons to power up for spells
Leafboard Fun: Surf on a leafboard to collect magic with Tom
Slimeweed Maze: Guide Tom and the Treelings through the scary forest to find the missing squizzle
Power Counting: Learn to count with Squirmtum as you free him from the spiderweb
Color and create a magical masterpiece with digital paint, stickers, crayons, stickers and so much more!
"'Tree Fu Tom' is a show that offers great benefits to preschool aged children during their crucial years of development," said Nicholas Dale, Director, Digital and Hardlines, Licensing and Merchandising, FremantleMedia North America. "We're excited to expand the brand into a digital app experience that will allow kids to experience the world of Treetopolis in a whole new way."
###
About Tree Fu Tom
"Tree Fu Tom" is an exciting and inspiring animated show taking place in an enchanted world, Treetopolis, where movement creates magic and every child watching gets to be a hero. The show follows the many amazing adventures of a young boy, Tom. In each episode Tom puts on his magic belt and with the power of 'movement magic' called 'Tree Fu,' he transforms into a tiny but mighty magical super hero and travels to the kingdom of Treetopolis, which exists in a tree in his backyard.
The movements in "Tree Fu Tom" were designed by child development specialists to aid the advancement of motor skills in preschool aged children. Encouraging preschoolers to move and hone their motor skills throughout each episode, "Tree Fu Tom" engages children in action, adventures and physical activity unlike any other show on television.
The second season of Tree Fu Tom recently launched on Sprout, where it is currently airing at 8:00 AM, 11:00 AM, 2:30 PM and weekends at 6:30 AM, 11:00 AM and 2:30 PM. In addition, children can also download the show from several online providers including iTunes, Amazon Instant Video, Google Play and NOOK®.
"Tree Fu Tom" is a co-production between FremantleMedia Kids & Family Entertainment and the BBC for CBeebies, with animation by Blue Zoo Animation.
About Cupcake Digital
Founded in 2012, Cupcake Digital, Inc. gives kids the opportunity to interact with the characters they love by transforming children's entertainment properties into award-winning apps. The Company's apps are consistently top-ranked on the Apple App Store, Amazon Appstore for Android, Google Play and the Barnes & Noble NOOK Store. Cupcake's licensed IP portfolio includes Wow! Wow! Wubbzy!, Jim Henson's Fraggle Rock, Strawberry Shortcake, VeggieTales, Yo Gabba Gabba!, Animal Planet, The Smurfs, Sid the Science Kid, Barney, Mike the Knight, Cloudy with a Chance of Meatballs, Puss In Boots, How To Train Your Dragon, Madagascar, Shrek, and Kung Fu Panda.
For more information about Cupcake Digital Inc., please visit http://www.cupcakedigital.com.
About FremantleMedia Kids & Family Entertainment
FremantleMedia Kids & Family Entertainment (FMKFE) is a worldwide leader in family entertainment and one of the most dynamic independent producers, licensors and distributors of engaging and ground-breaking content in the sector. The division works in collaboration with best-in-class partners to build global franchises that connect with children and families across multiple platforms and touch points. FMKFE's broad and distinctive brand portfolio includes pre-school action animation series Tree Fu Tom, breakout comedy Strange Hill High, animated musical comedy Grojband and aspirational new girls' pre-school series Kate & Mim-Mim. It also owns the rights to a rich archive of children's classics including: Danger Mouse, Rainbow and Duckula containing over 3000 hours of programming. FMKFE is part of FremantleMedia, one of the leading creators, producers and distributors of TV entertainment brands in the world.
About Sprout
Sprout is the first 24-hour preschool destination available on TV, on demand and online for children ages 2-6 and their parents and caregivers. Available in over 55 million homes with programming structured to follow the day of the child from morning to night, Sprout features original programming, including The Chica Show and Noodle and Doodle, a library of gold standard series, including Caillou and Sesame Street, and U.S. exclusives including Lazytown and Tree Fu Tom. Sprout's hosted programming blocks, including The Sunny Side Up Show and The Good Night Show, serve as tools to guide parents as they help children prepare for their days and nights with activities, user generated content, stories, and more. Viewers are encouraged to submit artwork, birthday wishes, videos and more through SproutOnline.com, which has received over five million viewer interactions to-date. Sprout's VOD offering is the #1 on demand service for younger children with over 1.5 billion views. Sprout was fully acquired by NBCUniversal Cable Entertainment in November 2013.