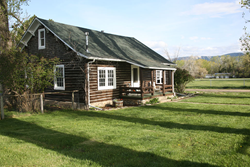 It's a real piece of Wyoming history that can serve as a comfortable getaway and recreational property.
Big Horn, WY (PRWEB) May 28, 2014
A vintage one-of-a-kind Wyoming log cabin, located on a quarter-acre of property adjacent to the historic Bozeman Trail in the foothills of the Big Horn Mountains, has been listed for sale, announced http://www.bighornretreat.com. Carefully restored and boasting a historic marker, the Big Horn cabin has been featured in "Mountain Living" magazine and is minutes from such local attractions as the Sheridan, Wyo. airport; The Powder Horn Golf Resort, Wyoming's number-one-rated golf course; the Brinton Museum, featuring the historic ranch and notable Western art collection of the late Bradford Brinton; the Flying H Polo Club; and the quaint two-block-long downtown of Big Horn, Wyoming. Perfect as a Wyoming retreat or second-home, the historical pole log cabin sits on three lots that were once the site of Big Horn's first schoolhouse. An irrigation stream also runs through the property, which comes with two water rights.
"There isn't anything else quite like it on the market," says Wes Worden, owner's representative for the property. "It's a real piece of Wyoming history that can serve as a comfortable getaway and recreational property for people who want to enjoy all that this area has to offer."
A charming village with a two-block Main Street that offers a Post Office, Mercantile, Fire House and the Last Chance Saloon where cowboys still ride horses up to the drive-through window, Big Horn, Wyo., was founded 1882. The area caught the eye of well-to-do cattle and sheep ranchers who established operations along the base of the Big Horn Mountains in the 1890s, including the sheep-ranching Scottish Moncreiffe brothers who later established the Flying H Polo Club, Oliver Wallop, a member of the English nobility and Wyoming senator, and wealthy Chicago businessman Bradford Brinton. The trend has continued to the present day, with a number of distinguished but low-profile Fortune 500 executives mixing with Big Horn area ranchers and upper-middle class residents. Although land prices have risen dramatically, resulting in the subdivision of pastures that once served dairy farms and smaller ranches, the large ranches along the base of the mountains have remained intact due to the foresight of residents who established conservation easements.
The historic cabin featured by bighornretreat.com is not far from some of Ernest Hemingway's favorite fishing holes. While visiting a nearby mountain ranch in 1928, the famous author wrote the short story "Wine of Wyoming" about a French bootlegger living in Big Horn. In his letters from the time, Hemingway wrote to a friend about the similarity of the Big Horn Mountains to the Guadarrama mountain range in Spain.
Nature lovers and outdoor enthusiasts have endless year-round recreational activities to enjoy in this special Wyoming mountain town. Big Horn National Park and the Big Horn Mountains offer hunting, fishing, camping, hiking and backpacking, horseback riding, mountain biking, picnicking, sightseeing, photography, snowmobiling, skiing, sledding and more. Inspiring scenic drives provide routine beauty among everyday living.
The lovingly restored story-and-a-half three-bedroom, two-bathroom log cabin featured by bighornretreat.com is situated on a quarter-acre of property with unobstructed Big Horn Mountain views just one block from downtown Big Horn. The house includes a new furnace and ductwork from 2014. A single-car detached garage sits near the cabin, and a new septic tank and system were installed in 2005.
About bighornretreat.com:
Bighornretreat.com features a historical one-of-a-kind Big Horn, Wyoming, retreat for sale and information and images from the Big Horn, WY area. For more specific property information and pricing, visit http://www.bighornretreat.com.
Contact:
Contact Amy Stark at amy(at)wordenpr(dot)com or call 307.734.5335 with interest or questions regarding the Big Horn Retreat.