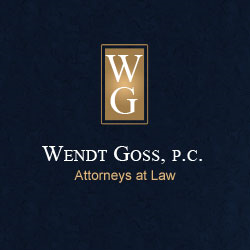 (PRWEB) May 27, 2014
Samuel Wendt and Peter Goss founded the personal injury law firm of Wendt Goss to help injured victims and families who suffer losses through no fault of the own recover the compensation they deserve. Since establishing the firm, Attorneys Wendt and Goss have helped recovered hundreds of millions in compensation on behalf of individuals and families throughout Kansas City, the state of Missouri, and the nation. Additionally, they have earned a number of awards and distinctions. Just recently, Attorneys Wendt and Goss earned yet another prestigious award by being selected to the 2014 list of Missouri and Kansas Super Lawyers®.
Super Lawyers Magazine is a nationwide publication that profiles the top attorneys in each region of the United States. Lawyers earn inclusion to the list after passing a multi-phase, patented selection process consisting of independent research, peer nominations, and peer evaluations. Each attorney selected to the final list exemplifies the highest standards of peer recognition, ethical conduct, and professional achievement. No more than 5% of attorneys in the region are named to the final Super Lawyers list.
Aside from recognizing top attorneys, Super Lawyers Magazine is also intended to serve as a resource for local residents in need of legal representation. By choosing to work with verified Super Lawyers, prospective clients can be confident that their legal representative is widely respected throughout the local legal community and has a proven record of success. Both Attorney Wendt and Attorney Goss have been named to the list of Super Lawyers each year since 2008.
Being selected to the list of Super Lawyers is an achievement that speaks volumes about an attorney's professional abilities. For Attorneys Wendt and Goss, it is simply a product of always placing the needs of clients first and fighting aggressively on their behalves. More information about Samuel Wendt, Peter Goss, and their record of success can be found on Wendt Goss' website: http://www.wendtgoss.com.
Wendt Goss is a full-service personal injury law firm located in Kansas City, Missouri. The firm focuses exclusively on personal injury law, and has represented numerous individuals and families who have suffered losses as the result of others' negligence or wrongful acts. The firm's legal team has earned numerous professional awards, and has successfully recovered hundreds of millions in compensation for clients.