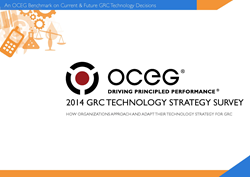 This is the definitive survey on what companies worldwide are doing to effectively utilize GRC technologies.
(PRWEB) May 29, 2014
OCEG's global GRC Technology Strategy Survey, available now for download indicates that organizations have had mixed success with their current use of technology for governance, risk and compliance (GRC). Half of participants state that GRC technology in their environment is underutilized and they are planning changes to address that problem.
"This is likely due to the siloed nature of technology usage," said Michael Rasmussen, Chief GRC Pundit at GRC 20/20 and study author. "The majority of GRC solutions being used are stand-alone department or issue-focused solutions," he continued, "which comports with GRC 20/20's earlier finding that less than 20% of spend is on enterprise technology that spans across departments in the organization."
The survey, prepared by the OCEG GRC Solutions Council and sponsored by Council members, ACL, Convercent and MetricStream, includes responses from more than 500 global participants representing a wide range of industries and companies of all sizes.
"One of the most striking findings is that the 70% of survey respondents recognize that the GRC technology currently deployed in their organizations does not meet their current needs," says OCEG President, Carole Switzer, "and this has led to two-thirds planning to increase their spend on GRC technologies to improve their use in the near future."
"Four mega-forces in technology for GRC were screamed out loudly by the survey results: cloud, mobile, design, and data," noted Dan Zitting, VP of Product Management & Design, ACL upon review of the survey findings.
"As the survey demonstrates, GRC technology has advanced so much that it can seamlessly connect processes, systems, and departments across the global enterprise. It can capture information from across functions and systems, and aggregate this information to decision-makers to successfully manage risk and make decisions," said Vinay Bapna, Associate VP of Marketing, MetricStream.
"We believe that the market is not only ready, but clamoring, for easy to-use-technology that is well designed and integrated, complete with native analytics and reporting. This survey validated that belief," said Michael Kleef, EVP of Marketing, Convercent.
The survey report and a recording of an expert discussion about the survey findings are both available now from OCEG at no cost.
ABOUT OCEG
OCEG is a non-profit global think tank dedicated to helping organizations align their approaches to the governance, assurance and management of performance, risk and compliance. OCEG offers hundreds of resources, online and live training opportunities, and a community within which individuals can continually build their skills and organizations can collaborate. Learn more at http://www.oceg.org.