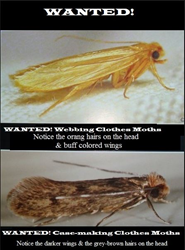 Dallas, TX (PRWEB) May 27, 2014
May is the season for rug-eating moths and Dallas' premier provider of rug cleaning and restoration services wants to help. Behnam Rugs is reminding customers to keep their rugs well-maintained this month as moths seek to nest in dry rugs.
Moth season tends to take a toll on all types of area rugs. Small golden moths that are about 1/3 inch in length, also known as webbing moths, seek breeding refuge in areas that their larvae can consume- rugs. Female moths can lay hundreds of eggs in rugs, making them highly susceptible to expensive damage due to the consumption of hundreds of larvae.
The hatched larvae consume various materials including feather, fur, silk fibers and primarily, wool. Rugs provide a large source of food for moths because their main intake of protein comes from wool. The larvae stage of a moth can last up to 30 months.
Webbing moths lay their eggs in dark, dry and undisturbed areas throughout the home. Areas of the rugs most moths tend to nest in include hidden portions such as underneath or behind the couch where most people do not vacuum. These areas are comfy, dark and dry due to the little air circulation they receive, making them a suitable habitat for a moth to nest. Once an infestation begins, it can spread to other rugs throughout the home, as well as couches, drapery and clothes.
If a rug is not properly maintained, it will dry out and become a breeding ground for moths. Behnam Rugs wants to help people keep their rugs fresh and well-maintained to avoid the May moth rush. Their services cover everything from rug washing to restoration and repair, while only 100 percent organic products are used and applied by hand.
Behnam Rugs has been serving Dallas since 1978 and always seeks new ways to help customers maintain the beauty and value of their area rugs. Steer clear of moth season. Visit http://www.behnamrugs.com/ to learn more.
To get rid of moths, Behnam Rugs uses and recommends this product: http://www.insectslimited.com/store/webbing-clothes-moth-kits/webbing-clothes-moth-5-pack.html.
Since 1978, Behnam Rugs has been cleaning and restoring the finest handmade rugs from all over the world. Their goal is to safely and gently hand-wash rugs in order for them to maintain the style, beauty and luster. Their experts take such care to insure that the rugs they return to their clients are not only clean and sanitary, but also properly maintained to increase the lifespan of all fine rugs. Behnam Rugs hand washes and repairs many types of rugs from hand-made wool, wool and silk, to machine-made rugs. They also sell rugs from around the world. If a rug requires more care, the master weavers are on staff to perform the extra care needed, in house. No job is too small or great for the weavers. With over three generations of experience, Behnam Rugs offers options starting with the traditional Persian hand washing process with organic shampoos and conditioners made special to maintain the life of rugs. Every rug receives a traditional Persian style wash. Customers can also request our special Enzyme wash to remove any extra odors and stains that happen over the years. Behnam Rugs also specializes in pet accident removal. They recommend that owners of antique rugs use their special services to retain the value in their investment and restore their rugs to pristine condition for years to come.