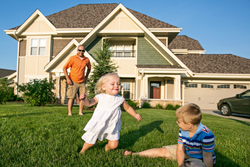 Hales Corners/Greenfield, WI (PRWEB) May 27, 2014
Falcon Glen is now offering apartment residences within its final phase. This visually stunning community offers "a new traditional neighborhood" where walkability and sociability are part of its plan. Brilliantly designed and finely appointed, Falcon Glen's residences are framed by lush landscaping and perennial gardens. Distinctive street lighting, water fountains, park benches, and other unique details accessorize the neighborhood and personify the care and small touches that establish the village character of Falcon Glen. In addition, state of the art fitness facilities, business center and a community center are available to all residents at our stately clubhouse.
Falcon Glen's Craftsman style architectural design is reminiscent of large estate homes and offers open floor plans, sound-attenuated walls and flooring, premium appliances, expansive windows, state-of-the-art climate control, gas fireplaces, and much more. These Hales Corners apartment homes offer two-bedroom, two-bath homes, many with a bonus den.
On Sunday, June 22nd, Falcon Glen will be hosting an open house from 11:00 a.m. – 4:00 p.m. Private tours are available Monday through Friday from 9 a.m.-6 p.m. and Saturday and Sunday from 11 a.m.-4 p.m. Falcon Glen is located on Edgerton and 113th Street. Join us at our spectacular clubhouse at 5049 S. Falcon Glen Blvd. or contact the Leasing Office at 414.529.4200 to schedule an appointment. Further information on Falcon Glen and Wimmer Communities can also be found at http://www.wimmercommunities.com.
More About Falcon Glen
There's a small town atmosphere to the communities of Greenfield and Hales Corners that surrounds Falcon Glen—where generations attend schools, cheer on youth athletics, volunteer, and greet each other at the grocery—a friendly community—solid, sensible, and popular. Emerging in the 1800s at the crossroads, the southwest metropolitan area enjoys 20-minute convenience to downtown Milwaukee's lakefront, Mitchell International, and Waukesha's lake country. Commuter bus service is available daily at the nearby park and ride lot. However, it's the extraordinary local amenities that enrich the fabric of this community, from Whitnall Park and its renowned Botanical Gardens to the excellent education district and strong churches. Falcon Glen residents will be warmly welcomed into this great community and encouraged to join in some of that small town spirit in cheering on the Falcons at the adjoining Whitnall Campus. It's all within walking distance because at Falcon Glen's doorstep lies excellent dining, recreation, and shopping convenience.
About Wimmer Communities:
For over six generations, Wimmer Communities has been developing communities in Southeastern Wisconsin for every taste and lifestyle including condominiums, retirement living residences, commercial properties, homesites, hotels, corporate accommodations and apartment communities.