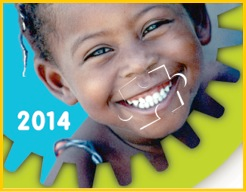 Coral Gables, Fla. (PRWEB) May 28, 2014
This year, Turbana and its social foundation, Fundauniban, joined forces with the Rotary Club of Uraba and 50 other entities, along with surgeons, anesthesiologists, and specialists from the United States and Colombia to provide free surgeries for economically challenged individuals suffering from cleft lip and split palate in Uraba, Colombia.
The initiative, called "New Smiles for Uraba," completed 52 surgeries from April 6 to April 11 on individuals between the ages of three months to twenty-four years of age. "New Smiles for Uraba" helped relieve many of the physical burdens patients sustain from having a cleft palate or split lip. These physical symptoms can include difficulty eating, cavities, malformed teeth, frequent ear infections, hearing loss and speech impediments.
This year, Turbana got involved with "New Smiles for Uraba" by donating $5,000 towards medical equipment and anesthesia in order to make more surgeries possible. In addition to Turbana's contribution, its social foundation Fundauniban has gone above and beyond the conventional treatment process by providing ongoing emotional and mental support post-surgery.
Turbana's marketing director, Marion Tabard comments, "We are extremely proud of the work our social foundation is doing with its Cleft Lip and Split Palate Program. Individuals born with cleft lip and split palate have many psychological hurdles to overcome. New Smiles for Urabá is a fantastic initiative thanks to the cooperation between all these entities, which allows for a large number of surgeries to take place within a single week. This gives a tremendous opportunity for people with cleft lip and split palate to have a better and brighter future."
Turbana's social foundation, Fundauniban, has been a major contributor to the realm of integrative specialized care for children suffering from cleft lip and split palate in Uraba for some time. This year marks the 11th consecutive year that its Cleft Lip and Split Palate program has provided surgeries, rehabilitation and psychological support to the local community, and the 3rd year that the program has adopted the "New Smiles For Uraba" initiative.
In support of the "New Smiles For Uraba" initiative, Fundauniban will rehabilitate these 52 patients, along with their families for about a year, depending on each patient's recovery process. Providing speech therapy programs, personal growth activities, self-esteem workshops and support groups will help these individuals transition into a normal lifestyle.
The success of Fundauniban's Cleft Lip and Split Palate Program can be measured not only by the over 900 surgeries that have been performed to date, but also by the relief felt by these patients and their families after the year-long treatment. Within the program, the "New Smiles for Uraba" initiative integrates support from the United States through Turbana to help make the program more effective, and to assist as many patients as possible in a short period of time. The program's 3rd year of involvement marks another successful round of surgeries and rehabilitations.
Through initiatives like "New Smiles for Uraba", Turbana and its social foundation, Fundauniban, are continuing their efforts to better their farmers' communities, giving people in Uraba more reasons to smile and live happy, healthy lives.
###
About Turbana
Established in 1970, Turbana Corporation is a leading importer of tropical produce in North America, including bananas, plantains, pineapples, and ethnic tropicals. Turbana is proud to have been the first organization to bring Fair Trade Certified bananas to North America.
A pioneer in sustainability and social consciousness, Turbana has developed the farming communities in the banana and plantain-growing regions over the past 44 years through its social foundation, Fundauniban. Turbana gives a portion of every purchase to Fundauniban, contributing to the $250 Million the foundation has invested in social and economic projects for education, housing, infrastructure, and environmental protection since 1987. Additionally, Turbana invests in its communities across the US, helping them build sustainable and healthy practices. Turbana is owned by Uniban, the world's largest grower-owned banana company and the world's largest producer of Fair Trade Certified bananas and plantains, and Fyffes, one of the largest produce importers and distributors in Europe.
About Fundauniban
Fundauniban is a social foundation created in 1987 that has been dedicated to improve the quality of life of the communities in the agro industrial regions of Uraba and Magdalena in Colombia. Its goal is to empower them to create the opportunities they deserve to live in a decent house, to study, to increase their income, and to believe in a better and brighter future. To date, Fundauniban has invested over USD 250 million into a variety of projects that range from education, social and economic development, to housing and community infrastructure.