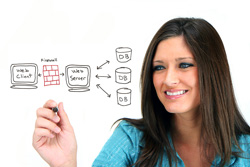 It's been a great pleasure working with Len of IFM over the past year, and I'm most appreciative of his insistence that we strive to offer a superior product.
Markham Ontario (PRWEB) May 28, 2014
After a new website design has been created and launched, or even if the site is a few years old, without knowing what's happening on the site in terms of navigation, traffic and page vewing, site owners cannot make the necessary changes or modifications to improve conversions. After all, the goal of most website designs today are to help a company retain and take on new business.
There are many third party analytical applications available on the internet today, including Google Analytics, which is free to use. Most hosting facilities offer a statistical gathering application which is usually included with their hosting plans. What type of info gathering tool one should use is generally up to the webmaster, but Google's analytics is free to use and offers a lot of site user data. This data gathered by Analytics can also be compared to the data that one's hosting plan statistical application gathers, just to ensure the data is valid.
So what type of statistics should webmasters be looking at? Well, here is a short list of some basic but important statistical terms and IFM's determination of their value. Google Analytics features have been used in this instance.
Visits: These are usually the number of people who visit a website during a specified period of time. Larger site's data could be analyzed weekly or even daily, whereas smaller sites can be analyzed monthly. Most statistical software will separate new visitors from returning visitors. Both are important because webmasters want new visitors along with existing visitors to return to the site as well.
Pageviews: These are the number of pages viewed by visitors when they visit a website. If there are are 500 visitors shown to visit a site in a given time period, and there are only 750 pages viewed, this may indicate that the site is infinity optimized and users get what they came for – or, the site may be of poor quality, and people leave after viewing just a couple of pages.
Engagement: How long do people stay on a site? Analytics measures this in increments of 10 seconds, 30 seconds, 1 minute, 3 minutes and all the way up to 30 minutes. The longer a person stays on a site, the more likely that person is engaged with the site page information. Longer stays of 5-10 minutes per visitor, could result in new business. Shorter stays of 10 seconds or less might indicate a negative signal and site pages should be reviewed for effectiveness.
User Flow: This feature in Google Analytics shows which pages people entered the site on, which pages they visited while on the site, and which page they exit the site from. If someone enters on the index page, navigates to the services page, and then on to an FAQ page and then on to the Contact page, this can be assessed as a positive outcome. How users navigate on the site can tell many things – both good and bad.
Geo Stats: Analytics can determine the different languages your visitors use and which area of the world they are viewing the site from. Finding out what languages users speak to determine if a different language should be added to the company site, is a good statistic to know. For example, if 65% of visitors speak English, and 25% speak French, a site owner may want to have French versions of the site pages available for those visitors to help increase conversions.
This is just a small sample of statistics that, when analyzed, can help website owners fine-tune website pages to help make the user experience a more enjoyable one.
Speak to a local website designer about how to best analyze the company website statistics.
IFM Web Services offers Responsive Web Design, website analysis, SEO Press releases, Search Optimization and Facebook pages for businesses. Located in the Toronto area (GTA), IFM has helped business achieve an effective online presence and has helped clients as far away as Bermuda and Mexico. For more on Social Media, SEO or Web Design for businesses, visit IFM at http://www.ifm.ca.