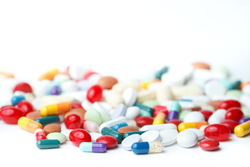 1 in 20 people have used prescription painkillers for a non-medical reason.
Albion, MI (PRWEB) May 30, 2014
The National Safety Council sponsors the month of June as National Safety Month. As part of the U.S Department of Health and Human Services (HHS), the National Safety Council cites injuries as a leading cause of disability for Americans of all ages, as well as a leading cause of death for those aged 1 to 44. The agency also notes that many injuries can be prevented when safe practices are implemented.
Safety Issues
During National Safety Month, people are encouraged to become informed as to the important safety issues highlighted as those worthy of attention and raised awareness. Issues cited specifically included prescription drug abuse.
Prescription Drug Abuse
Some prescription drugs, commonly referred to as "medications," have psychoactive or mind-altering properties. For this reason, these drugs lend themselves to use and abuse by individuals taking them for non-medical reasons or in ways or amounts not intended by a prescribing doctor.
According to the National Institute on Drug Abuse in their Research Report on How Many People Abuse Prescription Drugs that was published in October of 2011, prescription drugs as well as OTC (over-the-counter) drugs are the most commonly abused substances by Americans aged 14 and older, after marijuana and alcohol. [Source: http://www.drugabuse.gov/publications/research-reports/prescription-drugs/trends-in-prescription-drug-abuse/how-many-people-abuse-prescription-drugs
The organization goes onto say that the most commonly abused prescription drugs are the class of opioid pain relievers such as OxyContin or Vicodin, the stimulant prescription drugs used for treating ADHD such as Ritalin, Concerta or Adderall, and the CNS (Central Nervous System) depressants used for anxiety relief, such as Xanax or Valium.
The National Institute on Drug Abuse in their Topics in Brief Prescription Drug Abuse piece, published December 2011, says that the most commonly abused OTC (over-the counter) drugs are the cold and cough medicines which contain dextromethorphan, a cough suppressant which has the potential for abuse as a recreational drug due to its euphoric and hallucinogenic properties when used in high doses. [Source: http://www.drugabuse.gov/publications/topics-in-brief/prescription-drug-abuse
Narconon Freedom Center's Warning
As a long-term residential drug rehab facility in Michigan dedicated to helping addicts reclaim their lives from addiction, the executives and staff of Narconon Freedom Center have extensive experience in the consequences of prescription drug abuse, and the dangers of easily becoming addicted to these narcotic painkillers.
In an effort to raise awareness and help to prevent the suffering and heartache caused by prescription drug abuse and addition, Narconon Freedom Center cautions people that it is a misconception that prescription drugs are safer than illicit drugs, emphasizing that they are potentially highly addictive, put the user at risk of adverse health effects, and when used in combination with alcohol or other drugs can result in overdose and death.
Prescription Drug Abuse Prevention
Narconon Freedom Center also sends its message of prevention actions which people can take in an effort to remain safe from the consequences of prescription drug abuse and addiction.
The center executives and staff caution against taking a prescription medication (drug) which has been prescribed to someone else, pointing out that most teens abusing prescription drugs get them free from a relative or friend.
They also caution against taking a prescription medication (drug) in any manner other than prescribed. Most prescription drugs are dispensed to be taken orally in tablets, and not crushed for snorting or injecting, which speeds-up and amplifies its effects, with consequent risks.
The center's parting caution is to never take a prescription drug for any other purpose than that for which it was prescribed. It is known that any of the prescription drug-types mentioned herein are capable of producing a high, the main reason for potential abuse.
But the main warning is the fact that the real cost of prescription drug abuse and its artificial and temporary high, is all too frequently a life.
For further information on or help with prescription drug abuse, please contact Narconon Freedom Center toll-free at 1-877-362-9682 or visit their website at http://www.narcononfreedomcenter.org/.