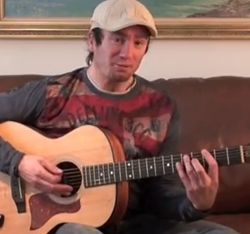 Today I want to show you a little trick that I picked up from listening to Stevie Ray Vaughn.
(PRWEB) May 27, 2014
"Today I want to show you a little trick that I picked up from listening to Stevie Ray Vaughn," says Darville. Jacques performs a short demonstration of this cool blues lick as heard in the song, Cold Shot, before explaining how to play it. Next Jacques explains how to play the lick in the key of A as follows; 7th fret of the 4th string with 3rd finger and bar first finger across all strings on the 5th fret. Next using the hybrid picking technique, Jacques plays the 4th and first strings simultaneously and then moves the pick to the 3rd string and plays it and the first string together repetitively while alternating between fretting the 5th fret of the 3rd string to the 7th fret and to the 8th fret and back again, changing the sequence and timing to create a melodic lick. Darville says that you can vary up the lick by using hammer-on's and pull-off's. Guitar TAB's are available for this cool blues guitar lesson at BluesGuitar.com.
Stevie Ray Vaughn, a native of Dallas Texas, was a legendary blues guitarist best known as the leader of Double Trouble and for helping with the blues revival of the 1980's. Double Trouble sold out concert venues around the world and had many Gold Records. Vaughn's career was cut short when he was killed in a helicopter crash in 1990.
Jacques Darville
Jacques Darville is Danish born American who specializes in both acoustic and electric blues. Jacques has taught guitar and music for over 16 years. He is a graduate of Oakland University in Detroit Michigan where he earned his B.A. in music/performing arts. Jacques currently resides in Copenhagen Denmark where he teaches guitar to students of all ages, and actively plays with his band, Darville Duo. In addition to having a great deal of recording experience, Jacques has also toured in the USA, Denmark, Holland, Austria and the Philippines, both as a solo artist and with different bands.
About BluesGuitar.com
BluesGuitar.com is the leader in modern blues guitar instruction. It's packed with resources including articles,video lessons, and the best videos in the business for the beginner to the advanced guitar student taught by the best instructors out there.